Starting Friday, December 15, Snapchat will begin distributing and showing bilingual content created by USC Annenberg students who are part of the student-run Latinx media brand Dímelo.
Through a new partnership with Snapchat parent company Snap, Inc., student journalists on the Dímelo team, supported by Annenberg Media, will have the opportunity to push their stories out to a targeted audience while learning in-demand and rapidly evolving digital skills from professionals in the field.
Snap already offers content from a robust network of news sources, including CNN, BuzzFeed, ESPN and NBC, via its Discover vertical. Recently, college news outlets were also recruited to join its fold of publishing partners. These college collaborators will produce weekly Campus Publisher Stories, which will be localized and available to audiences within a geographic range of each campus. Content will also be available to anyone on Snapchat via search and by scanning Dímelo's Snap code.
USC Annenberg's Dímelo, which translates to "tell me" in Spanish, was created by students and is aimed at engaging young adult Latinx audiences on campus, in Los Angeles and beyond. Students write and produce timely content in English and Spanish, covering topics ranging from immigration legislation and politics to food, culture and family.
Stories are shared via Facebook, Medium, Snapchat and Instagram. Features planned for the Dec. 15 Discover launch include stories on final exams, top Netflix Latinx films to binge watch over winter break, and recipes to get you through study week, said Dímelo faculty advisers Amara Aguilar and Laura Castañeda.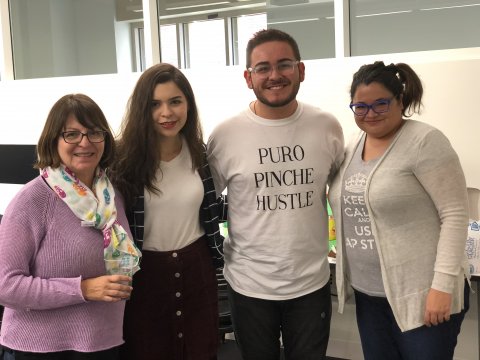 "The partnership is a one-of-a-kind opportunity to connect more deeply with our young audience and expand the Dímelo brand on Snapchat, a platform where our audience already spends a lot of time," said Aguilar, who initiated the collaboration with Snap.
Delivery of journalism continues to evolve at a rapid pace, and partnerships like these keep USC Annenberg on the leading edge, Aguilar said.
"As the industry continues to expand in the digital space, many media organizations are looking for journalists to produce for mobile and emerging platforms such as Snapchat's Discover, and students can get direct experience here," she said. USC Annenberg students are working directly with Snapchat editors as the Dímelo team creates native mobile content that blends reporting, visuals, typography, animation and interactive storytelling.
"The students already have learned so much about what works on the platform. We will also be tracking analytics and user engagement to see what content and story forms work well — and what doesn't," Aguilar added.
"Students will have an opportunity to develop a set of skills that will help them thrive in digital-producing jobs," said Claudia Buccio, editor of Dímelo. "More and more news outlets and entertainment platforms are using Snapchat to convey stories."
The collaboration is also a direct way for student journalists producing Latinx-focused content to reach audiences where they are and create personalized experiences that are compelling and engaging.
Dímelo managing editor Tomás Antonio Mier said, "Working with Snap Inc. will open my doors to new opportunities I would have probably never have had. Producing diverse content for a platform like Snapchat is something I am incredibly proud of."
Castañeda added, "It differs from other platforms and verticals at Annenberg in that it's content created by young Latinos for young Latinos on platforms they are gravitating toward. It also shows that USC Annenberg recognizes the potential growth and impact of the Latino audience, and supports efforts to find ways to serve this community."
"As a Mexican-American journalist and graduate student of USC," Buccio added, "this project has allowed me to find ways to share my culture not only with fellow USC Latino students — but also to spread a sense of cultural awareness to our broader student audiences.
"I have been able to bring in my experience as a student of color and to raise my voice in both English and Spanish."
---
Follow Dímelo on Facebook at facebook.com/justdimelo; Instagram @justdimelo and Snapchat @justdimelo. Also follow our partner Annenberg Media on Twitter and Instagram @annenbergmedia and on the web uscannenbergmedia.com.