"I've always had a love affair with the city of L.A. I was born here, and spent most of my life in the area that I grew up," said Issa Rae, the creator, writer and star of her own HBO series, Insecure.
She found initial success with her YouTube web series, The Misadventures of Awkward Black Girl, which later became a New York Times best-selling memoir.
Rae uses humor and pop-culture references to draw audiences in to her storytelling. Her work largely focuses on racial and female identity, while offering a comic sensibility, for which she taps into being a black female writing from her own perspective.
As part of the USC Annenberg-HBO Diverse Voices Forums, Rae captivated a crowd of hundreds in the Wallis Annenberg Hall Forum, where she offered insights on developing a creative enterprise that is both sustainable and authentic.
During the talk, she touched on visual representations of black women in television, as well as the process of developing storylines that speak to current socio-political issues. Some of these themes included the intersectionality of black and brown unity and highlighting parts of Los Angeles that are often stigmatized in mainstream media.
In Rae's own words, here are three takeaways from her discussion with host Taj Frazier, associate professor of communication and director or the Institute of Diversity and Empowerment at Annenberg (IDEA).
Creative unravel
Anytime I have something due that I don't want to be doing, I'm always thinking what script can I be working on.
During college, I had a paper due and I was in the bathroom (where a lot of my ideas come). I was on Facebook all the time and I was doing this play with my friend, so I thought how can I make these two work together?
I came up with an idea to do a mockumentary on what it was like to be black at Stanford. I was like, the camera was in the library. I checked it out because nobody was using it and basically made the first episode of my first web series.
It was called 'Dorm Diaries' and I put my friends in it. I knew they would share it because they're vain. And I was right! It spread to other schools. That was my first audience and people related to it. For me, that was the moment I knew I was making something that people were watching.
By the time I got the idea for Awkward Black Girl in 2010, (well I came up with the idea a long time ago but I didn't do it until 2011), I had two web series under my belt and it was for the Internet. The prior two projects I tried to pitch to television and I was constantly told, 'There's no audience for this. Nobody wants to see black kids who are in college right now. College shows don't do well.'
So, I said to myself, if they're not into these other two ideas, they're never going to buy into something called Awkward Black Girl. So, I decided to make it just for the Internet and that's of course, the series that pretty much launched my career.
A new wave of multiculturalism in TV
With Awkward Black Girl, we had people behind the scenes that were women, Asian, Black, Latino — everybody. It was so beautiful to be on set and be able to look to people that you don't typically see on traditional television and movies.
That was important to me, to just showcase people that I was friends with, that I knew and not necessarily caricatures or a stereotype. I do credit Shonda [Rhimes] for starting the wave recently of putting a black female on television that people can feel connected to and that is a hero. And then I also wanted to see more flawed characters and so, for me, it was about tapping into that and again, showcasing people that I knew and telling relatable stories that feature black people.
For me, Prentice and Melina, it was very important for us to make sure not only to hire writers of color, women and minorities, but to promote them.
That was important for us because you're not going to be able to get experience if no one gives you a chance.
South Central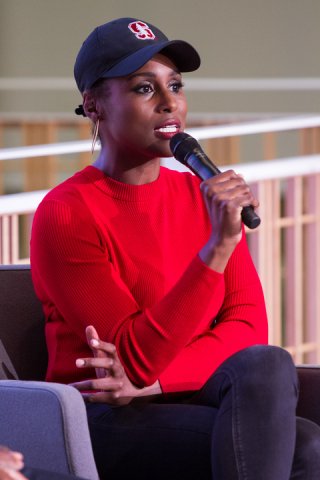 I have lived in View Park, South Central and now I live in Inglewood. And on television, South Central really gets a bad rap and it's not updated.
There's so much beauty and richness — and it's so cultured.
I found a show-runner who also grew up in my neighborhood, who worked in nonprofits and who loves L.A. just as much. He always said that shows like Entourage get to make Beverly Hills and Hollywood sexy and why can't we do the same for South Central? And so, that was kind of our mission going into it.
I've always maintained from the beginning, I'm only telling a specific story and I don't feel I represent all black women. I'm not telling the stories of all black people. I'm not an expert. All I can do is represent myself and my truth.
We elevated what we wanted to do with the show and how we wanted to display it.
Issa Rae has created her own production company, Issa Rae Productions, and has joined the cast of The Hate You Give, an adaptation of Angela Thomas' award-winning novel. She is set to executive produce a-yet-unnamed HBO drama with National Book Award finalist and The Turner House author Angela Flournoy '07.