5:30 am: Read for class
6:30 am: Calls with New York office
7 am: Coordinate with Marcos to make sure kids are awake, dressed and eating breakfast
7:30 am: Marcos takes kids to school, more calls to New York
8 am: Leave for work
No matter how challenging Leighdia Sandoval de Padilla's morning might be, she knows someone in history had it worse. And, now, she's created an app for that.
As part of her capstone experience in the Master of Digital Social Media program, Sandoval de Padilla collaborated with a team of five students to develop the app "It Could Be Worse."
Photo by: Olivia Mowry
"It's a tongue-in-cheek approach to looking at history that gives you some perspective on your own life," Sandoval de Padilla said. With people's social media channels often filled with their perfect, curated lives, she explained, they designed this app to highlight the darker side of the day-to-day. Their hope was to position themselves at the intersection of comedy and tragedy.
"I might be struggling with keeping up with everything going on in my life," she said, "but centuries ago I could have been floating on a piece of ice while the Titanic sinks or beheaded like Marie Antoinette."
Sandoval de Padilla and her group, led by Karen North, clinical professor of communication, did extensive research to identify historical moments and then coded and created the software that allows users to upload a photo and insert their faces into a specific scene and then share the photo – along with a factoid baked into the design – on all social media platforms.
"We were calling and texting each other at all hours of the day and night as we figured out what functions of the app were essential, and the different avenues for testing, designing and building," she said.
When Sandoval de Padilla, who will earn her master's this month, decided to go back to school, she had just started working as a digital sales director for Hearst Digital Media. Prior to that she had spent more than 15 years in advertising sales, first for Latina Magazine, then Seventeen Magazine and Food Network Magazine.
It was a big decision and the mother of four children, ages 2 to 11, wanted to be sure her husband, Marcos, and her father, who lived with them, were onboard for the support she would need.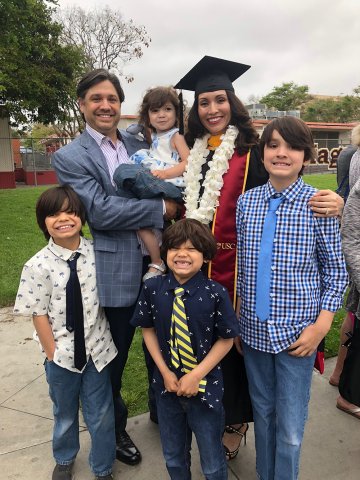 Photo courtesy of Leighdia Sandoval de Padilla
"Anytime you take on this type of endeavor while working full-time and having a family, everyone is going to school with you, you're not going alone," she said. "But, we all knew it wasn't going to be forever."
A self-described freelance wife and mother, "coming in project by project or as my family needs me," Sandoval de Padilla initially enrolled in the program because she believed it would feed her entrepreneurial spirit.
"I liked the idea of being in an environment where you can be creative and apply that creativity to an actual product," she said. "That was very intriguing and attractive to me. Sales today is not what it was 20 years ago, and as I was pivoting from a more print-centric background to a digital focus in terms of my career, this program helped enhance my skill set and was a nice complement to what I was now engaged in at work."
She explained how her work in digital sales and her master's program studies have gone hand in hand from the start.
"When I was in class, I was thinking about how I could apply what I knew from my experience into our projects and when I was learning something new from a professor, I tried to integrate it into my discussions with clients. There was definitely a bridge between the two."
As she prepares to graduate, the first thing on Sandoval de Padilla's new to-do list is a summer vacation. "For the past year and a half, between the kids' school schedules and mine, education has been 24/7 in our home," she said. She's looking forward to going up on the stage to receive her diploma, with her family cheering her on. She wishes, though, that when her name is called that her entire family could be recognized because, as she said, "we all did it together."