Sixteen journalists from around the nation are at the USC Annenberg School for Communication and Journalism this week to take part in the Center for Health Journalism's 2018 Data Fellowship. The highly selective program, which began Oct. 17, helps reporters gain investigative data skills through an intensive four-day series of workshops. It also provides six months of one-on-one mentoring — guided by some of the best data journalists in the country — and grants of $2,000–$4,000 to help underwrite reporting.
The Data Fellowship is designed for reporters who want to learn how to harness and analyze data to produce journalism that can shape decision-making, policy and legislation on health and child and family well-being. Each fellow — and his or her newsroom — commits to a major investigative or explanatory project that is completed with help from the center's data journalism mentors.
Topics the fellows will explore in their projects include the ongoing controversy about the quality of health care and mental health care in Southern California jails; deaths and delayed care in private detention centers housing undocumented immigrants; child poverty in southwestern Pennsylvania; trends in elder abuse; opioid treatment challenges in California; barriers to health care for the uninsured in rural Central California; conditions in privately run detention facilities for youth offenders in Pennsylvania; the relationship between community segregation and disparities in the health of minority children; and ethnic, racial and gender disparities in youth suicides in Texas.
"Through this rigorous program, we equip reporters to tackle original investigative and explanatory reporting rather than relying on others to do the data crunching," said USC Center for Health Journalism Director Michelle Levander. "They'll gain the skills to go to original data sources to identify where things go wrong in child welfare and health policy as well as to analyze models for change."
The fellowship is funded by generous grants from two of California's leading health foundations, the California Health Care Foundation and The California Endowment, the center's founding funder, and by the Doris Duke Charitable Foundation.
"Data can be a powerful tool to help journalists understand and report what is really going on inside our health care system," said Sandra R. Hernández, M.D., president and chief executive officer of the California Health Care Foundation. "We are proud to again support the Data Fellowships so that top California's top health care journalists have the skills they need to look at the numbers."
Leticia Alejandrez, director of communications for The California Endowment, said, "The California Endowment believes that equipping reporters through the Center for Health Journalism Data Fellowship can play an important role in improving the state's reporting infrastructure. Training journalists to marry data with storytelling can open up new understanding on the health status of vulnerable Californians and the forces that contribute to health or ill health. We are very happy to support this program."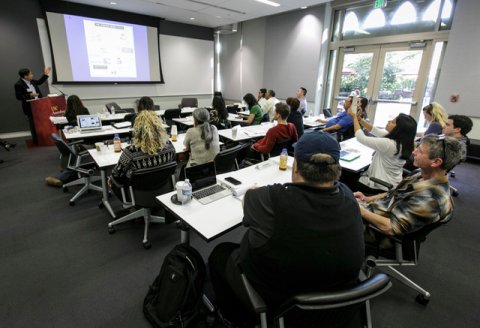 Photo courtesy of: Michelle Levander
Lola Adedokun, director for child well-being for the Doris Duke Charitable Foundation, which funds the participation of non-California journalists, said, "Data can offer important revelations about disparities in and challenges to communities' health and well-being, and lead to targeted solutions. Recognizing that journalists play a powerful role in telling these stories to policymakers, practitioners and the public, we are pleased to support fellows across the country in analyzing complex data sets and integrating them into ambitious and compelling reporting projects. We look forward to seeing the ways in which their work will illuminate critical problems and highlight pathways to improving outcomes for children and their families."
Program speakers include Jim Neff, deputy managing editor for investigations at the Philadelphia Inquirer, who has edited three Pulitzer Prize-winning projects and five finalists, speaking on how to develop an investigative state of mind; Sarah Cohen, the Knight Chair in Digital Journalism at Arizona State University and former data editor at the New York Times, on tips for obtaining information from reluctant bureaucracies using Freedom of Information Act requests; and Cary Aspinwall, an investigative reporter for the Dallas Morning News whose National Fellowship project, "Overlooked," exposed the high rate of jailing of women in the Dallas area and the consequences for their children.
In addition, fellows will benefit from the expertise of three distinguished data journalists who will lead skills sessions during our intensive training program and serve as mentors tor six months afterwards, fellows will receive one-on-one mentoring from those three senior fellows, all award-winning data journalists: Meghan Hoyer, data editor at The Associated Press; Paul Overberg, data reporter at the Wall Street Journal; and Cheryl Phillips, Lorry I. Lokey Visiting Professor in Professional Journalism at Stanford University. Through the mentoring and reporting process, fellows put lessons learned during workshops into practice to produce a major project that can illuminate important issues for their communities.
Up to four of the data fellows will also receive engagement grants to help them connect with their audiences and communities in more intimate, meaningful and impactful ways as part of our ongoing commitment to advance and support "engaged journalism."
Since 2005, the Center for Health Journalism has educated more than 800 journalists on the craft and content of health journalism, with an emphasis on the relationship between health and place. Past fellowship projects can be found here.
2018 California Data Fellows
Francie Diep, health reporter for the Pacific Standard, will investigate the availability of medically assisted treatment at publicly funded opioid addiction treatment centers in California.
Paloma Esquivel, Inland Empire reporter for the Los Angeles Times, will investigate problems in the delivery of health care and mental health care to undocumented immigrants who are detainees at a privately run detention facility. Her project will be co-published in the Times' Spanish-language newspaper, Hoy.
Michelle Faust, health reporter for Southern California Public Radio, will investigate trends in elder abuse in the Los Angeles area.
Joe Goldeen, reporter for The Record in Stockton, will investigate barriers to health care for the uninsured and underinsured, principally undocumented Latinos, in San Joaquin County.
Nicole Hayden, an investigative reporter for the Desert Sun in Palm Springs, will look into how the regular destruction of homeless encampments by a local agency affects with the delivery of health services to homeless individuals by mobile health care providers.
Nikie Johnson, a data journalist for the Southern California Newspaper Group, will investigate problems in the provision of health care and mental care to inmates at four county jails. Her project will be co-published in SCNG's Spanish-language newspapers, La Prensa and Excélsior.
Kerry Klein, a reporter for Valley Public Radio, will investigate trends in opioid use, misuse and treatment in Kern County, which has experienced a notable increase in opioid overdoses in recent years.
Vikaas Shanker, a reporter for the Merced Sun-Star, will look into obesity among children and youth in the Merced area and the role of school food.
David Washburn, a reporter for EdSource, will investigate the reasons behind high rates of chronic absenteeism in many of California's rural communities.
Jared Whitlock, health reporter for the San Diego Business Journal, will look into how a surge of Medi-Cal patients is affecting hospitals' bottom lines in San Diego, as well as how a shortage of psychiatric beds affects patient care.
2018 National Data Fellows
Giles Bruce, a health reporter for the Times of Northwest Indiana, will investigate why Indiana has a disproportionately high number of children both reported for child abuse or neglect and placed into foster care.
Lisa Gartner, an investigative reporter for the Philadelphia Inquirer, will investigate maltreatment at the privately owned and operated facilities to which Pennsylvania sends most of its juvenile offenders.
Richard Lord, investigative reporter and editor for the Pittsburgh Post-Gazette, will look at the causes and effects of concentrated child poverty in parts of southwestern Pennsylvania and explore potential solutions.
Deidre McPhillips, data editor for U.S. News and World Report, will look into the relationship between childhood health disparities and segregation in the communities in which they live.
Cassandra Jaramillo, a features reporter for the Dallas Morning News will look at teen suicide in Texas in the context of gender, racial and ethnic disparities.
Anna Claire Vollers, an investigative reporter for Alabama Media Group, will investigate child abuse deaths in Alabama for insights into how poverty contributes to child maltreatment as well as promising prevention strategies.
---
For more information, contact Michelle Levander at levander@usc.edu or (213) 821-8857.