When you put your eye to the viewfinder, aim a microphone or press play on the recorder, your only thought is to get the story — accurately. This year at the 60th Annual Los Angeles Press Club's SoCal Journalism Awards on June 24, a slew of USC Annenberg students, alumni and even one of our esteemed professors got a bonus — honor and recognition for a job well done.
Competing among peers and seasoned journalists across Southern California, both new and experienced journalists were awarded prizes across print, radio, TV, broadcast, online and streaming. NBC News anchor Lester Holt, who was part of a conversation hosted by Dean Willow Bay at USC Annenberg on November 2017, attended the gala and received The Lifetime Achievement Award recognizing his reporting and commitment to the press.
There were 19 students working at both USC Annenberg Media and USC Annenberg's digital arts and cultural magazine Ampersand who were recognized.
Laura Kangasluoma '18 won first place in the Personality Profile/Interview category for her piece "Prudish Americans" — a project created for Sasha Anawalt and Mary Murphy's class, "Special Assignment Reporting: Arts, Culture and Entertainment."
Judges wrote: "Rich description and a no-nonsense interview with a porn star takes listeners into her world (and garage)."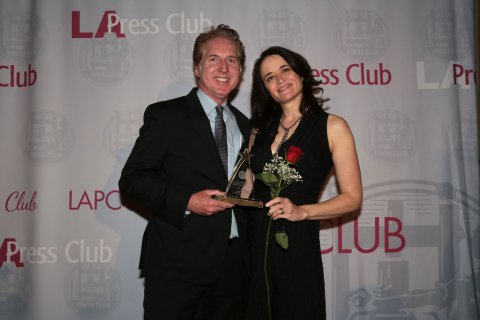 In the Radio category, competing against professional broadcast outlets for the best audio news story,
Connor McGlynn
'17 won second place "
Homelessness and Hunger in Los Angeles
."
Also in the News category, Renee Gross '17 placed second in the lifestyle feature category for "Exceptional Architecture" — a story that unfolds about a Beverly Hills landmark, once the childhood home of Gross's mother.
In the Regularly Scheduled Newscast category for Television/Film, USC Annenberg Media placed twice. In second place, Sam Bergum '18, Garrett Schwartz '18, Taylor Edghill '18 and Kim Rogers '18 won for their coverage, "USC Active Shooter Scare."
And in third, Sam Bergum, Sanika Bhargaw '18, Abby Flaxer '17 and Duanli Zhu '17 placed for "Annenberg TV News 2/15/17."
In the Public Affairs/Talk Show category, John Marcus '18, Chris Cheshire '18, Ryan Thompson '18, Sofia Bosch '18 and Aziza Kasumov '18 placed second for "The Current International: Germany Decides."
In the Student Media Competition, Liz Warner, an Annenberg Associates '17-'18 KCET fellow, won first place in the Best Personality Profile category: "A Look Back at Roxy Music's Inventive Start." The audio story was produced in Anawalt's Ampersand course, "Arts Journalism: Storytelling and Production."
Judges wrote: "This piece is the considered, thoughtful work of a practiced professional — not a student! A very bright future awaits Ms. Warner."
Among other winners in the student media category, Brad Streicher '17 and Sam Bergum took first place for their USC Annenberg Media story "Just Six Feet Away: Oil Drilling Site May Threaten Community Safety."
Judges wrote: "Solid reporting exposing the health dangers of oil drilling in the midst of residential neighborhoods."
In the same category, multiple winners Cole Sullivan '18, Marc Sallinger '17, Sam Bergum, Abby Flaxer and Sanika Bhargaw placed second for their reporting on "Oroville Dam Evacuees Head Home."
Sullivan also received second-place for his human-interest feature, under five minutes, "Lil Bill's Bike Repair Starts Petition."
Marty Kaplan, The Norman Lear Center Chair in Entertainment, Media and Society at USC Annenberg, won second place as a columnist for the Jewish Journal.
USC Annenberg alumni also took home awards in several categories, including Sarah Parvini '13 and Matt Hamilton '14 who placed first in investigative news reporting for their Los Angeles Times story, "The Secret Life of a USC Dean."
Judges' comment: "The L.A. Times stunning expose of the USC dean's misdeeds resulting in his dismissal is an outstanding example of how journalism has a positive impact on society through real news."
Alumnus Eddie Kim '13 won first place for Personality Profile from newspapers with a circulation below 50,000. Kim's feature "Meet the Skid Row Fixer" followed Wendell Blassingame, a man who, every day, sets up a table at San Julian Park to help local residents find the services and resources to get housing.
In their review, judges wrote: "The writing in this story is so vivid and descriptive, you feel like you are right there in San Julian Park, seeing and hearing for yourself everything the writer is describing. The details he chooses to include when introducing his subject give the reader insight into the nature of the character of Wendell Blassingam."
Kristin Marguerite Doidge '10 won second place in Online Sports News or Feature for "The Most Powerful Posse in Compton" for Good Magazine. Award-winning radio journalist Susan Valot '15, won third place in Best News Feature for a story she produced with KCRW about the annual reunion at Manzanar — one of the ten Japanese-American internment camps during World War II.