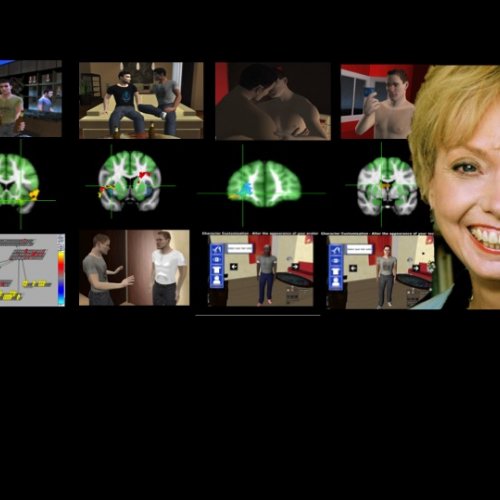 Lynn
Carol
Miller
Professor of Communication, Associate Dean of Research
Program
Communication (PhD)
Phone
213-740-3948
Office
ASC 101B
More

Lynn
Download

CV
Expertise
Health Communication
IDEA
Interpersonal Communication
Neuroscience
New Interactive Media and Intelligent Technologies
Social Computational Modeling
Systems Science and Evolutionary Dynamics
Lynn Carol Miller (Ph.D. personality psychology, University of Texas at Austin) is Professor of Communication and Psychology at USC. She has over 80 publications and has been Principal Investigator on interdisciplinary HIV-prevention projects totaling over $13M (e.g., funded by the Centers for Disease Control and Prevention, National Insitute of Mental Health (NIMH), National Institute of Allergy and Infections Diseases (NIAID), National Institute for General Medical Sciences (NIGMS), California HIV/AIDS Research Program, and other agencies) and a Co-PI/senior scientist on other grants (National Institute for Drug Abuse (NIDA); Navy Personnel Research Studies and Technology/DoD; Office of Naval Research; AFOSR/DoD; United States Army, etc.) totaling an additional almost $5M.
Her research uses virtual interactive and gaming technologies to study, predict and reduce real-life risky decision-making for high-risk, diverse, community-based populations. The resulting game applications are designed to be both (1) scalable and capable of being rapidly diffused (e.g. through DVDs or the Internet) and (2) usable in neural (e.g., functional MRI) "test-beds" to better understand the complex dynamics of risky decision-making in challenging contexts for risky versus safe target populations. The goal here is for researchers to better understand decision-making processes and why and how interventions might be effective (and where they may be failing some individuals) so that we can cumulatively adjust, test, and if more effective, rapidly update and disseminate them broadly. Such a paradigm shift in intervention development we believe could greatly advance prevention intervention science.
At the center of this work is an approach called Socially Optimized Learning in Virtual Environments (SOLVE), which is a neuroscience-based approach to changing risky behaviors that are more automatic and contextual. In that approach MSM go on a "virtual date" that simulates real-life challenges and options within which interventions to change decision-making are embedded.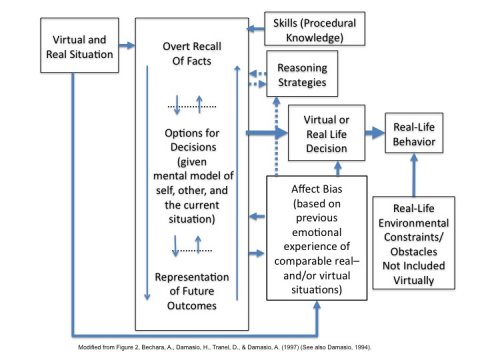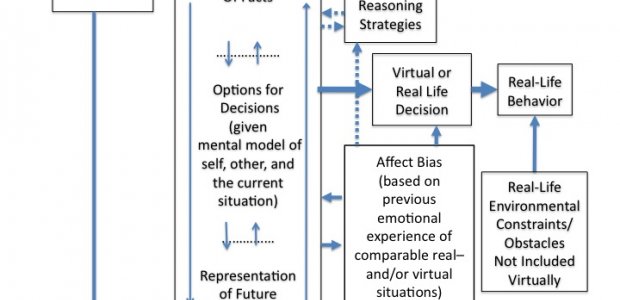 A pioneer in using interactive video for reducing risky behavior, Lynn Miller received her first grant to do so, using interactive video in an HIV prevention intervention, in 1990. This approach challenged the then prevailing views that education (e.g., about HIV and its dangers) and changing cognitions (e.g., beliefs, intentions) and skills were sufficient to change risky behavior. In extensive interviews with men who have sex with men (MSM) in the late 1980's she realized that many MSM engaged in risky behavior despite their best intentions to do otherwise. Many of these choices seemed driven by contextual, automatic, and affect-based processes (e.g. involving sexual arousal and shame) that were being overlooked in existing interventions. In the last decade or so, increasingly health researchers have realized that stigma and shame play important roles in increasing risky choices in a variety of domains, including in increasing risky sexual decisions for MSM. But, few interventions have succeeded in reducing shame.
SOLVE produced the first interventions for risky sex that successfully reduced shame and showed that that reduction in shame predicted reduction in unprotected anal sex over time for the most at-risk young men who have sex with men. Although originally the interventions used interactive video with live actors (and full production), more recently she and her team have used 3D animated games (using UNITY) with intelligent agents (with their own theory of mind) to simulate real world choices and challenges in typical sequences leading up to risk. Users create their own self-characters and those characters are "aged" to create virtual future selves (VFS) designed to guide or scaffold users into better choices. Key to reducing shame were among the first "sex positive" interventions for men who have sex with men (MSM) that acknowledged men's desires and helped men to "normalize" these (i.e., that these choices were normal for them). SOLVE provides MSM with ways to integrate their desires with other goals (e.g., to stay safe) in making less risky sexual choices. Recently, the team has completed a 50-state intervention trial for young MSM (aged 18-24) with exciting results.
In other work, the SOLVE-IT game provided a test-bed for better understanding MSM's risky and safer decisions. To do so MSM play the game in an fMRI scanner. This innovative work allows us for the first time to understand how risky and safe MSM are neurally different in making choices on virtual dates.
The SOLVE paradigm enables new ways to improve our understanding of risky MSM's decisions and thereby to enhance our cumulative science and efforts to rapidly develop efficacious, scalable interventions for reducing risky decisions in cost-effective ways.
In the video below, Lynn Miller -- in a recent conference entitled, "Innovative Use of Technology for HIV Prevention and Care: Evidence, Challenges, and the Way Forward (supported by CHIPTS, UCLA, NIMH) at the California Endowment Los Angeles -- provides an overview of SOLVE-IT and some of the team's recent findings.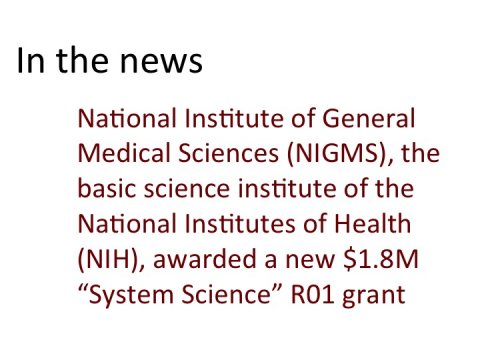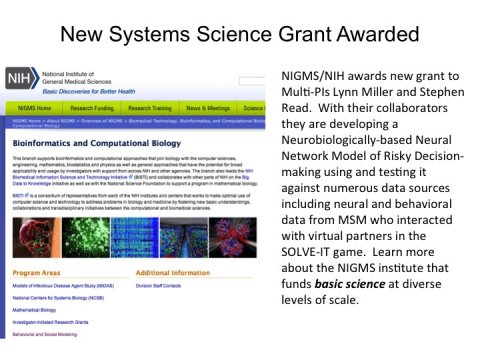 "We're so excited to receive this new award from NIGMS," says Lynn Miller, who along with Stephen Read (Psychology at USC), is a PI on this grant.
"We lack a systematic understanding of how complex neural systems interact with each other and with various social and contextual factors to produce risk-taking, when, for whom, and why. This gap impedes more rapid advancements in prevention and intervention science. Adequate computational tools could help address this critical barrier, and better advance a cumulative science, but they are currently lacking.
This project aims to address this gap by developing generalizable computational tools: A validated neurobiologically based, neural network model of the interaction of these systems could transform our ability to advance theory and effective interventions. To this end, a team of social scientists, neuroscientists, and computational neuroscientists will, among other things, develop biologically-based computational models that leverage and integrate existing neural network models that view behavior as emergent from approach and avoid motivational structures and, at a different level of scale, neural network models that simuate the underlying biological basis of incentive processing and learning, executive function, and decison-making."
"Imagine if we had the ability to routinely model the dynamics of individuals' risky decision-making at various levels of biological scale while individuals are in unfolding social interactions with others -- and do so for a broad range of risky situations that might occur in day-to-day life...my goodness, then, the new possibilities for better understanding and reducing individuals' risk-taking could open up dramatically." Miller said.
Learn more about Work and Mission of NIGMS of the National Institutes of Health from this exciting overview of NIGMS https://www.youtube.com/watch?v=M9eHGoWKKgM
Additional interdisciplinary collaborative work, funded by the Department of Defense, is supporting the development of cognitive architectures for intelligent agents with realistic and "tweakable" personality, communication patterns, and emotion that could "model" individual cases and also be used for a host of training, educational and health communication applications in games and robots. Other work uses computer simulations/computational modeling and evolutionary approaches to understand systematic sex, relationship, reproductive and health outcomes in a changing environment
Publishing in and reviewing for the top outlets in many fields, she is a sought after speaker/consultant for academic and government sponsored conferences/meetings/panels (e.g., NIH, NSF), and has been the recipient of a variety of awards for research and teaching, including the Gerald R. Miller Early Career Award from the International Network on Interpersonal Relationships, the Provost Fellowship from the Center for Interdisciplinary Research at USC and the Phi Kappa Phi Mentorship Award.