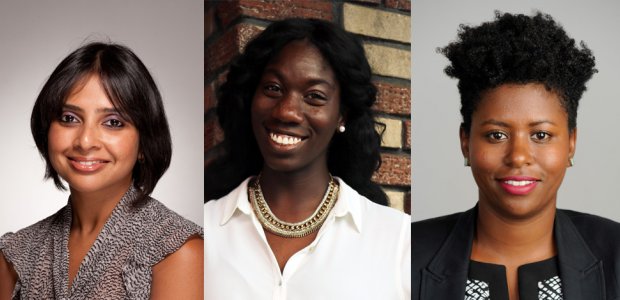 The future of money: Careers at the intersection of communication, currency and credit
Thursday, March 8, 2018 -

5:00pm

to

7:00pm
Wallis Annenberg Hall (ANN), The Sheindlin Forum (106)
The Women's Leadership Society presents "The future of money," a panel discussion about the successful career journeys undertaken by women with communications and journalism degrees who are making their mark in the rapidly evolving financial services and payments ecosystem.
Over the past several decades, digital technologies have been steadily transforming one industry after another. The impact of this radical restructuring has been particularly acute in the media and retail industries, where digital disruption has greatly diminished the economic value of traditional businesses and fundamentally altered consumer expectations and behavior. In each of these cases, market incumbents either evolved or became sidelined.
The digital revolution now poses a similar existential threat to incumbents in banking, payments, and financial services. Factors such as the declining importance of physical branches, the exponential growth of the mobile Internet, shifting demographics, enduring reputation damage from the Great Recession, the rise of crypto-currencies, and the prevalence of FinTech start-ups that are unlocking the potential of artificial intelligence and automation are all putting huge pressure on banks, investment institutions, and payments companies — leading to a tipping point where the old ways of doing business are rapidly becoming obsolete. 
How are leading financial services companies embracing technology and bringing an innovative stance to their brands while retaining the human touch that customers still demand? How are these enterprises using online content to infuse a human element and socially-responsible intent to their user experience?
Our panel of marketing executives and financial services professionals will share real-world examples and discuss how they lead their brands and institutions in using communications skills to revolutionize the world of money.
Our panelists will include three high-achieving USC Annenberg alumnae:
Mo Alabi, Content Marketing Manager, Tala Mobile
Simone Andrews, Associate, Environmental, Social and Governance (ESG) team, Moody's Investors Service
Chaiti Sen, Director, External Communications, Mastercard Labs
Schedule:
5:00 – 6:30 p.m. Panel
6:30 – 7:00 p.m. Reception & Mixer 
About Mo
Mo Alabi is the content marketing manager at Tala Mobile, overseeing social media, brand communications, creative and content creation for the company's international markets in EastAfrica and Southeast Asia, and Tala's corporate brand. Prior to joining Tala, Mo worked in marketing, creative and events startups in the Los Angeles area, always carrying with her a passion for international development and creative storytelling. Mo graduated from USC Annenberg in 2015 with a B.A. in Communication, emphasis in cultural studies, and a minor in Communication Design from the USC Roski School of Art and Design.
While at USC, Mo served as a senior intern for the USC Fisher Museum of Art, in various leadership positions for InterVarsity Trojan Christian Fellowship, and was an active member of the USC Annenberg Ambassadors and World Vision ACT:S. Mo credits these positions and her time at Annenberg and Roski as the seasons where she honed in on her passions for understanding international culture; how art and innovation can build and shape a society while empowering the individuals that live and work within it.
Mo is an alumna of the Annenberg Scholars, USC's Thematic Option Honors Program and a USC Presidential Scholar. Mo was born in Lagos, Nigeria and grew up in Atlanta, Georgia and is happy to be an Angeleno, where she's always aware of the closest library and coffee shop.
About Tala Mobile
Based in Santa Monica, California, Tala builds mobile financial products that expand access, choice and control for underserved consumers globally. Today Tala's lending app uses a combination of Android and behavioral data to instantly underwrite customers who have little or no formal credit history. Proprietary global models for credit and identity help Tala develop an alternative credit score, or financial identity, for these customers, along with personalized financial services like instant credit. More than 10,000 mobile data points go into Tala's underwriting models, helping us score even those without formal credit or banking history and design financial products to match their lives. An estimated two billion people around the world have no formal credit score, and three billion are considered financially underserved. Tala, formerly known as InVenture, is backed by IVP, Ribbit Capital, Lowercase Capital, Data Collective, Collaborative Fund and other leading venture and impact investors.
In 2016, Fast Company ranked Tala as one of its top 10 companies in Money, and Forbes named Tala as one of the top 50 FinTech companies in the world. Additionally, Tala's work has been highlighted by the New York Times, the Financial Times, the Wall Street Journal, TED, and Wired, among others. Tala has additional offices in Nairobi and Manila.
About Simone
Simone Andrews is an associate on Moody's Environmental, Social and Governance (ESG) team. In this capacity, Simone supports the company's carbon transition risk research and corporate governance analysis throughout the global credit markets. Simone transferred into the ESG team from the US Public Finance Group, where she was a lead analyst on the Local Government rating team. In this capacity, she served as a lead analyst for a diverse portfolio of school districts, cities, counties, and utilities primarily in the Northeast. Simone also serves on Moody's ESG task force and has supported Moody's Green Bonds Quarterly research and Green Bond Assessment reporting.
Over the last 8 years, Simone has focused on the intersections of clean energy, climate, and economic growth. Prior to joining Moody's, Simone worked at the New York Economic Development Corporation, where she helped manage NYCEDC's loan, equity, and tax incentive strategy. Simone has also worked to create public sector energy efficient and renewable energy programs in the City of Los Angeles.
Simone graduated cum laude with her B.A. from the University of Southern California and has a Master of Public Administration from New York University. She is the current NYC Chapter Leader for Women Investing for a Sustainable Economy (WISE NYC) and also serves as an Executive Committee Member at Enterprise Community Partners. 
About Chaiti
Chaiti Sen is the global communications leader for Mastercard Labs, the company's research and development division that is focused on digital payments. Her communications portfolio also includes startup engagement, innovation management and financial inclusion.
In her current role, Chaiti is responsible for generating and executing global media campaigns to build awareness of and adoption for Mastercard's future bets and innovations in technology. She is passionate about creative story-telling and her expertise lies in telling brand and product stories across both social and traditional channels and through experiential, influencer and grassroots engagement.
Chaiti has over 20 years of communications experience in both Asia and the United States across multiple sectors such as hospitality, consulting, automotive and technology. She has spent half her career in consumer and lifestyle communications and the other half in technology and services working for Fortune 500 companies such as IBM and General Motors.
Chaiti is a graduate from the Annenberg School for Communication and Journalism at the University of Southern California and currently lives in New York.
RSVP