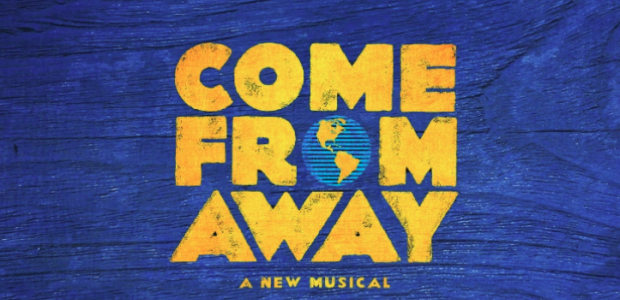 Everybody comes from away: Art, politics, and 9/11
Wednesday, November 14, 2018
5 p.m.

–

7 p.m.
Wallis Annenberg Hall (ANN), The Forum
---
Co-hosted by the Center Theatre Group.
On September 11, 2001, three dozen U.S. flights landed in Gander, Newfoundland, a small community that sprung to action, welcoming and providing refuge to some 6,500 Americans who needed a home away from home.
Fast forward to April 2017 when Tony-nominated writers Irene Sankoff and David Hein created Come From Away, which tells this story of cross-cultural tension and integration during an incredibly vulnerable time. Join CPD as we unpack this musical from the perspective of those on the ground and those in the arts community.
Mayor of Gander Percy Farwell and Center Theatre Group Producing Director Douglas C. Baker, and filmmaker Jacqueline Lyanga will discuss the themes of openness, tolerance and cultural generosity exemplified in the musical, which underscores the role of empathy in cultural encounters—an invaluable component for good public diplomacy anywhere. This program is moderated by Josh Kun, Director, USC Annenberg School for Communication.
About Percy Farwell
Mayor Farwell has been a Gander resident for over 50 years and has been actively involved in the community throughout that time. After a period of time working in the private sector in the oil and transportation industries, he spent 27 years in the public sector with the Government of Newfoundland and Labrador where he held progressively responsible positions in regional and economic development and, in 2017, concluded his career after 17 years as Regional Director with the department responsible for the province's economic development mandate.
Mayor Farwell was first elected to Gander's Town Council in 1993 and was subsequently re-elected in 1997 and 2001, serving 12 years in various positions of leadership, including nearly six years as Deputy Mayor. In 2017, Mayor Farwell returned to the political arena and was elected as Gander's 9th Mayor. Mayor Farwell has been active in his community throughout his life including competitive sport, where he has represented the province at the regional/national level in three different sports, and community theatre, where he has been active on stage with the Avion Players for over 30 years.
About Douglas Baker
Douglas C. Baker (Producing Director) is now in his 29th season at Center Theatre Group. Previously, he managed Broadway and touring productions including Tru, Born Yesterday, The Gospel at Colonus, Annie, A Chorus Line, Working, The Wiz, and Legends!, which premiered at the Ahmanson Theatre in 1986 and starred Mary Martin and Carol Channing. Doug is a member of the Achievement Hall of Fame of Chagrin Falls Schools in Ohio and a graduate of Albion College. He is an active member of the Broadway League, the Independent Presenters Network, and is a proud member of the Association of Theatrical Press Agents and Managers. In May 2013 Doug received the Broadway League's prestigious Outstanding Achievement in Presenter Management Award.
About Jacqueline Lyanga
Jacqueline is currently the guest director VR & Immersive Storytelling at the Los Angeles Film Festival and serving on the international jury at the Mumbai Film Festival. From 2010 to 2018 she directed the AFI FEST as well as served as a Series Producer and Programmer at AFI FEST from 2005-2010. Jacqueline is a graduate of the American Film Institute (Master's degree) and holds a B.A. of Arts (Cinematic Studies, Art History, Semiotics, and English) from the University of Toronto - Victoria University.
About Josh Kun
Josh Kun is a 2016 MacArthur Fellow and the winner of a 2018 Berlin Prize and a 2006 American Book Award. His research focuses on the arts and politics of cultural connection, with an emphasis on popular music, sound, the cultures of globalization, the US-Mexico border, Los Angeles, and Jewish-American musical history. He also works as a journalist, essayist and curator. He currently serves as the Director of the USC Annenberg School of Communication.
He is the director of The Popular Music Project at USC Annenberg's Norman Lear Center and co-editor of the book series Refiguring American Music (Duke University Press). He co-curates Crossfade Lab, a conversation and performance series that occurs across multiple sites in Phoenix, Arizona. He founded the USC Annenberg Distinguished Lecture Series on Latin American Arts & Culture. He serves on the editorial boards of the International Journal of Communication, Aztlán: A Journal of Chicano Studies, Journal of Popular Music Studies, and Public Culture.
During 2017, he was a commissioned artist in the SFMOMA and SFPL Public Knowledge series for which he produced an LP of music and musical memories about gentrification in San Francisco. In 2017 he was also the curator of a series of "musical interventions" for the Getty Foundation's 2017 PST: LA/LA initiative, a series of six public concerts based on a year of academic research on the musical history of Latin America in Los Angeles.
As a curator of exhibitions, installations, and public humanities projects, he has worked with The Getty Foundation (Pacific Standard Time), The Grammy Museum (Trouble in Paradise: Music and Los Angeles 1945-75), LA County Museum of Art (The Corrido of L.A.), The Skirball Cultural Center (Jews on Vinyl), The Los Angeles Public Library (To Live and Dine in LA), among others. Prior to joining the USC Annenberg School, Kun was an associate professor of English at the University of California, Riverside. He holds a Ph.D. in Ethnic Studies from UC Berkeley.
Light refreshments will be served immediately following the program.
Parking is available for $12 per day at USC. The closest parking structure is located at USC Downey Way Structure. A link to the campus map can be found here.
RSVP