Annenberg high school day
Saturday, October 23, 2021
10 a.m.

–

1 p.m.

PT
Online
---
Annenberg high school day (AHSD) is a bi-annual program that will take on Saturday, October 23, 2021 from 10 a.m.–1 p.m. via Zoom. We will bring together local high school youth from throughout Southern California. Youth will receive hands-on immersive training in journalism, communication, media, and public relations. They also learn about USC Annenberg's undergraduate programs and services.
Program schedule:
10–10:15 a.m.: Welcome to Annenberg High School Day (AHSD)
10:15–11:00 a.m.: Keynote by Ana B. Cholo (Public Affairs Officer for Santa Monica Mountains National Recreation Area, a unit of the National Park Service)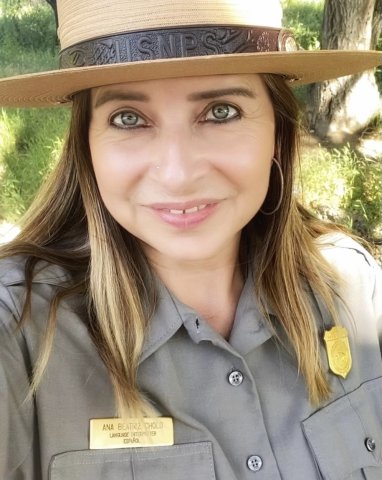 Ana Beatriz Cholo is the public affairs officer for Santa Monica Mountains National Recreation Area, a unit of the National Park Service.
She is a first-generation immigrant, and Portuguese and Spanish are her first languages. She still mixes up both languages sometimes! Her parents (from Brazil and Colombia) met in an ESL class in New York City. They moved to a working-class neighborhood in Orange County when Ana was seven years old. She gained a lot of character growing up with "Cholo" as her last name in Southern California. It further confused her classmates that she was a light-skinned Latina who spoke broken English with a funny East Coast accent.
After graduating from high school, she escaped a repressive and strict household and enlisted in the U.S. Navy seeking freedom. She spent four years in the military, the first two on a nuclear submarine ship in the middle of a "loch" in rural Scotland and then as a Seabee driving a forklift and managing a construction warehouse in Puerto Rico.
After an honorable discharge from the military, she graduated with a dual degree in print journalism (Annenberg) and history from the University of Southern California. She went on to work as a reporter at the Los Angeles Times, the Chicago Tribune, the Associated Press, and the Press-Telegram in Long Beach. She's been interviewed on the Today Show and many other national TV networks.
After more than a decade in news, she began a freelance writing career. She also jumped over to the media relations and advocacy side of communications. She worked for the USC Rossier School of Education, the Courage Campaign, and the California Charter Schools Association. She's written for TIME Magazine, Huffington Post, Alpinist, Pacific Standard, Capital & Main, and other news outlets. She started working for the National Park Service in 2018.
She did not grow up experiencing the outdoors and discovered it later in life. She enjoys reading, water sports, hiking, mountaineering, rock climbing, kayaking, bicycling, and all things adventurous. She is a single mom who shares custody of her 13-year-old son with his father. She also has two adult children. She lives with her partner, a reporter for the Los Angeles Times, and their four crazy cats and three tarantulas in the Santa Monica Mountains.
Engage with Ana Cholo here:
11–11:50 a.m.: #ThroughMyWindow: Reflecting, Imagining, Creating Together
Over the last 6 years, The Civic Imagination Project team, based at the University of Southern California, has worked with communities all over the world to develop tools for unlocking the imagination and activating unbridled creativity for real world action because we believe that we need hope and imagination to mobilize and sustain our collective efforts. Our group believes that to make the world a better place everyone needs to be able to imagine what a better world looks like, even now, especially now.
Presenters: Sangita Shresthova PhD, director of Research and Programs/Civic Paths at USC Annenberg and Paulina Lanz, PhD candidate at USC Annenberg
12–12:50 p.m.: Annenberg Youth Academy Alumni Panel
Come learn more about the Annenberg Youth Academy for Media and Civic Engagement (AYA) from alumni who participated in the program and are now in college. Panelists will be announced soon.
12:50–1:00 p.m.: Annenberg Youth Academy 2022 Information Session
You can view and download Zoom backgrounds for Annenberg High School Day here.
---
Moderator
Michael Tseng, AYA 2017, USC Annenberg and USC Cinematic Arts
BA Journalism, BA Cinema and Media Studies, MA Public Relations and Advertising 23'
Panelists
Jose Padilla, AYA 2020, UC Berkeley, Media Studies 25'
Itzel Luna, AYA 2019, Stanford University, Political Science and Communication 25',
Nia Holden, AYA 2019, Columbia University, Sociology 24'
Liliana Linan, AYA 2017, UC Santa Barbara, Communication and Film & Media Studies, Minor in French 23'

RSVP