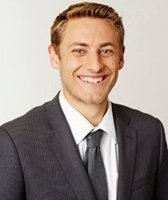 Full Name: Kurt Clements 

What is your hometown? Lake Elsinore, CA 

What is your favorite thing about your hometown? Skydiving with a beautiful view of San Diego, Catalina Island, and our very own lake!  

What is your major? Communication 

What is your expected graduation date? May 2016
Why did you choose to attend Annenberg? 
I chose Annenberg for the same reason I chose USC: the Trojan Family. I've seen the Trojan Family come to life at Annenberg in the professors who have taken an interest in me, in the students who have challenged and encouraged me, and in the advisers who have done everything to keep me pointed in the right direction. 
Tell us about a great experience or opportunity you've had here at Annenberg? 
I still find it hard to believe that I was able to do play-by-play for our Division I baseball games during my second semester at USC. I had zero previous experience in radio, but I was able to try my hand at something I had always dreamed of doing in my very first year at Annenberg.
What makes Annenberg special? 
Annenberg is special because of the people who invest so much in the work that they do and the people they come in contact with. Whether you're a freshman student trying to find your way around the department or you're a senior looking to get started with your dream career, the people at Annenberg have your back every step of the way.   
What's one thing at USC that no student should miss? 
No USC student should let the opportunity to explore Los Angeles pass them by. We have the world at our fingertips--sports, music, theatre, film, the outdoors--and to not get to know and fall in love with this city in the four years we have here would be a shame.
Tell us about an experience you've had outside of class (an internship, research project, publication, start-up, etc.). 
One of my favorite experiences at USC has been working as a tour guide with the USC Admission Center. With that job I have met the most fascinating people, both in and out of our office, and most importantly I've had the opportunity to showcase the best of USC to an incredible variety of people who come to visit the university. I've had the chance to practice so many of the things I've learned at Annenberg on the job, and I would encourage every USC student to find some sort of involvement opportunity that allows them to grow and develop their strengths and passions.
What have you learned from other students? 
I have learned that it's okay to be wrong and to change your mind. College is a four-year period where you are allowed to be wrong, and ultimately the best growth happens when you are challenged by others and realize that you don't know everything.
Who's your favorite professor or staff person and why? 
My Annenberg adviser, Annie! She always greets me with the most incredible smile and has been so influential in my USC journey. I've changed my mind about my career path and educational path no fewer than eight times, and each time she has been understanding and unbelievably helpful. In a place like USC where things are always changing, it's been invaluable to have someone like Annie as a constant.
What's your plan for after graduation? 
My plan after graduation is to initially become a teacher, but after a few years I want to come back to school and earn a Ph.D. in Education. I'm fascinated by how people learn and the best methods for giving students the best chance to succeed, and I want to contribute to the improvement of our school system over the long-term.
What advice do you have for incoming students? 
Try to be a little smarter each night when you go to bed than you were when you woke up. There is so much to be learned and so many days we just sit by as valuable knowledge goes unlearned. Find lots of things you're interested in and become experts in those subjects!