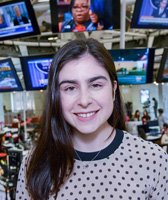 Full Name: Maral Tavitian 

What is your hometown? La Cañada Flintridge, CA 

What is your favorite thing about your hometown? I love the peacefulness and sense of community in La Cañada  

What is your major? Print and Digital Journalism
What is your minor (if any)? Entrepreneurship; Human Rights  

What is your expected graduation date? May 2017
Why did you choose to attend Annenberg? 
The hands-on nature of the journalism program at Annenberg excited me. Journalism education allowed me to pursue my passion for writing while also exposing me to fascinating people and societal issues.
Tell us about a great experience or opportunity you've had here at Annenberg? 
My project reporting class on homelessness in Los Angeles has pushed me out of my comfort zone as a journalist. Through interviewing homeless people, I have gained first-hand exposure to an issue that had previously felt distant and overwhelming to me. The project has provided a unique opportunity for me to share my insights with others through a creative lens.
What makes Annenberg special? 
Annenberg treats students as professionals. We work alongside our peers in a buzzing newsroom with real-world responsibilities and resources. The multimedia training students receive in print, radio, and television reporting prepares us to enter the professional world with confidence and technical skill.  
What's one thing at USC that no student should miss? 
Every student should take advantage of the inspiring guest speakers who visit campus every week. Journalism students: don't forget to live-tweet!
Tell us about an experience you've had outside of class (an internship, research project, publication, start-up, etc.). 
I interned in the cookbooks department of Food & Wine in New York City. The internship was a wonderful growing experience for me personally and professionally. I observed both the exciting and routine aspects of daily life in a major magazine. It was so gratifying to see my work culminate in the publication of Chefs' Easy Weeknight Dinners, a cookbook featuring 100 original recipes.
What have you learned (or are learning) that's made a difference to you? 
Minoring in human rights has added wonderful depth to my academic experience at USC. To be a great journalist, mastery of a particular subject matter is equally important as technical expertise. My human rights classes have enhanced my social and political awareness, and have inspired me to report on issues from a global perspective.
What advice do you have for incoming students? 
College provides a golden opportunity to grow intellectually and enjoy learning for the sake of learning. Explore all of your academic interests and passions during your time at USC. Take classes outside of your major that intrigue you. You never know how one course or professor could change your entire life trajectory.