During half-time at the Nov. 29 sold-out Lakers vs. Warriors game, two USC Annenberg students, James Thomas McDaniels '18 and Jackson Safon '18, received the 2017 Chick Hearn Memorial Scholarship in a center court ceremony. They were joined by members of the Hearn family and USC Annenberg Dean Willow Bay.
The endowed scholarship was established in 2003 in honor of legendary Los Angeles sportscaster Francis Dale "Chick" Hearn, who broadcasted more than 3,000 Lakers basketball games over 40 years until his death in 2002.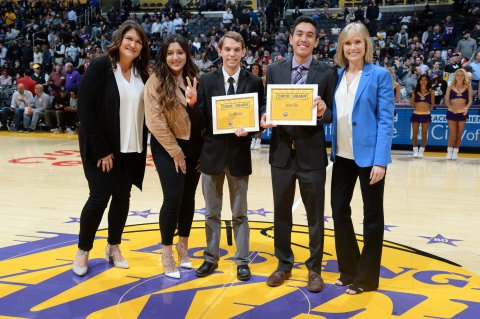 Photo: Courtesy of Los Angeles Lakers
"The great thing about the Chick Hearn Scholarship is that I will be forever linked to a man who made a very significant contribution to the industry I want to enter," said McDaniels, a broadcast and digital journalism major and sports media studies minor. "This is a huge honor."
Safon, also a broadcast and digital journalism major, has been a sports fan all his life and added, "He coined some of the amazing phrases that are just commonplace now, like 'charity stripe' and 'garbage time.' Most people won't even know where those came from they're so commonplace. Now they are in our vernacular. Chick Hearn is one of the pioneers."
Prior to the ceremony, McDaniels and Safon were interviewed by legendary Spectrum broadcasters, Stu Lantz and Bill MacDonald. The students also had a chance to sit at the ESPN bench with Mychal Thompson and Travis Rodgers.
McDaniels and Safon are planning to continue careers in sports journalism when they graduate in May. McDaniels is interested in going into team public relations, having already gained production, media relations and reporting experience through the various classes and internships he has held. Safon aims for a niche in digital web or video, having executive produced and hosted SportScene, a weekly USC Annenberg sports show, and completed a range of internships.
In addition to expressing their appreciation to the Hearn family, both talked about the support they received from their families and professors.
"I credit all of my success to my family's support," McDaniels said, "and to all the professors and professional connections that have given me the breaks to be able to do the things I enjoy, to show off the skills that I have, and to prove myself."
"It's one thing to just win a scholarship, which is amazing in itself," Saffron added, "but to be honored in front of the entire Staples Center crowd is pretty special to us all."