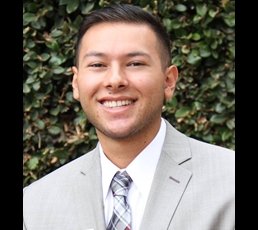 Full Name:
 Dru Chavez

What is your hometown? San Pedro, CA

What is your favorite thing about your hometown? The ocean views

What is your major? Public Relations

What is your minor (if any)? Consumer Behavior; Psychology

What is your expected graduation date? May 2017
Why did you choose to attend Annenberg? 
Not many other schools offered public relations as a major and Annenberg's alumni network outside of academia is parallel to none. The decision was easy for me.
Tell us about a great experience or opportunity you've had here at Annenberg? 
Besides all of the opportunities for free food in and around Annenberg buildings, the faculty at Annenberg has exceeded my expectations. The instructors range from adjunct to tenured, while the mix of the two provides balance to classes focusing on academia-minded theories to those emphasizing on applicable practice. The opportunity to attend instructor office hours is a great way to capitalize on your time. Annenberg professors genuinely care about their students and can offer great guidance and insight to a wide range of topics surrounding the journalism and communication fields.
What makes Annenberg special? 
The new Wallis Annenberg Hall separates Annenberg from other institutions as a powerhouse for hands-on learning and the ability to foster young talent into competitive, industry-ready professionals. Not many schools can provide the necessary resources to create such an environment but a mere walk around the Annenberg facilities will prove the school's benefactors have their priorities straight with their investments.
What's one thing at USC that no student should miss? 
A milkshake from Ground Zero.
Tell us about an experience you've had outside of class (an internship, research project, publication, start-up, etc.). 
I grew up a USC football fan and the dominant days of Pate Carroll and crew are forever engraved in my memory. My chance to intern for the USC Sports Information Office for the Athletic Department serves as a great merger from my PR studies to a professional work environment, on campus. The office of Tim Tessalone and staff may appear calm at first glance, but a minute into their daily work routines will reveal they are tackling no easy task, claiming responsible for USC Athletics integrity in media coverage. USC sports reigns supreme in the Southern California media market and as an intern, I'm able to experience first-hand the collaboration of statistical information with the glamorized glory of collegiate athletics. The experience reached a pinnacle this past semester during the annual spring football game. A USC record was set for highest attendance at a spring game, which is merely an inter-squad exhibition during the off-season. Thousands showed up to the LA Memorial Coliseum, reinforcing and speaking to the tradition and legacy USC sports have on the larger community, as well as the importance and priority set on the business of sports to fuel such an experience. I'm fired up just thinking about the upcoming football season.
Tell us about something you're involved with here (a sport, a club, a cause) and how it's changed you. 
I'm an assistant coordinator for a club on campus known as USC SpeechEmpowerment. Every week we go to a local high school to teach the fundamentals of public speaking and competitive debate. Class after class, I am blown away by the students growth and maturation in their speaking abilities. The students leave each session with more confidence and efficiency in their communication skills. So effortlessly to they pick up on our teachings and impress us coaches with their wit, intelligence and determination. I am reminded to never take my education and opportunities for granted. They inspire me to step out of my comfort zone and to not be afraid of failure. I start every class as an instructor, but leave every class as a student with a greater understanding of how we acquire new knowledge.
What have you learned (or are learning) that's made a difference to you? 
My studies at USC have instilled a sense of competence in my learning capabilities. Our required general education classes provide breadth and depth to my curriculum focusing on the humanities, social sciences and natural sciences. Now don't get me wrong, I am a Bachelor of Arts and a Bachelor of Arts for a reason, yet I am confidence in my study habits and work ethic to get me through any class-- including more science-minded courses, which just aren't my forte. (God bless the curve.) In addition, my Annenberg studies have refined my abilities to think creatively and outside the box. We are constantly asked to think intuitively in my PR classes and such practice has created a proactive mentality to be innovative. When I take my studies to the professional world, I will be able to speak to my creative insights with confidence as well as obtain many of the skills necessary to execute them into fruition.
What has been your greatest challenge? 
Financing USC is no easy task. As a student reliant on financial aid, every year seems to bear its burden on my family and me. Nonetheless, from a collection of work money, student loans, family assistance, scholarships and grant money, we make every semester happen. To combat the load, I take it upon myself to maximize my time spent as an undergrad and seek opportunities that can only be experienced as a Trojan. My investment is worth it because I am intrinsically motivated to reach my fullest potential in my 4 years, or at least try to.