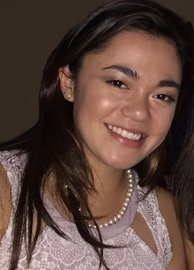 Full Name:
 Catalina Elena Gutierrez 

What is your hometown? San Francisco, CA 

What is your favorite thing about your hometown? The community of San Francisco is so unique. The combination of people, scenic views, natural surroundings, and food make the city an incredible place. 

What is your major? Communication 

What is your minor (if any)? Communication Design 

What is your expected graduation date? May 2017
Why did you choose to attend Annenberg? 
I choose to attend Annenberg because of the world-class faculty, scholars, and researchers the school represents and its dedication to continue to develop innovative programs to prepare students to become leaders for positive change across various fields. Coming to USC has always been a dream of mine and I'm very proud to be a part of one of the nation's top Communication Schools and immerse myself among the passionate, talented community of Annenberg.
Tell us about a great experience or opportunity you've had here at Annenberg? 
During my sophomore year I had the pleasure of taking the Communication, Technology, and Culture course, lead by professor Dr. Marcia Dawkins. The course provided me hands-on experience and the opportunity to collaborate and create a concept for a Google Glass app. Being able to interact with top industry professionals along with the ability to study and develop a relevant, meaningful project was incredibly fulfilling and inspiring.
What makes Annenberg special? 
I truly believe the Annenberg community's network and resources make it a world-class institution. From the courses provided, to the faculty, alumni, student organizations, and research programs, there are so many opportunities to develop your individual passions and vision both as a student and beyond as you develop your career. The mentorship I have received, and the talent that I have been exposed to such as top professionals in the fields of communication management, fashion, social media marketing, to screenwriting, has been astounding. The combination of both theory and real-world application opportunities make Annenberg an incredibly unique place.
What's one thing at USC that no student should miss? 
As a proud Trojan, I highly recommend that each student attend at least one football game! The energy and spirit at the coliseum is unbelievable and there's no better way to appreciate and enjoy the "Trojan Family" experience than at a football game. Fight on!
Tell us about an experience you've had outside of class (an internship, research project, publication, start-up, etc.). 
Over the past two years I, alongside my co-founder and twin brother, Trevor, have developed a social venture and lifestyle brand called Ignite, a social and addictive health and lifestyle mobile app, boldly designed to promote active lifestyles. Our mission is to get young people to live more physically, and socially active and engaged for a happier, healthier globally interconnected millennial generation. With the support of the Annenberg community, we plan to release the application at USC during the spring of 2016. I am anxious to have the USC community engage with Ignite and help inspire our community to lead more active, healthier lifestyles.
How does your major (and minor) fit into your life's plan? 
As a Communication Major and Communication Design minor my vision is to develop my skills in design, alongside communications and marketing to work within the entertainment or communication technology sector. I anticipate focusing on lifestyle branding and the intersections with mobile tech. The interdisciplinary focus of my Communication major and Communication Design minor provide me access to the resources at Annenberg, Marshall School of Business, and Roski School of Fine Art to fuse my passions for the creative arts, communication technology, and social entrepreneurship.
What have you learned (or are learning) that's made a difference to you? 
The two most important things that I am continuing to learn during my time at Annenberg are the ever so challenging yet fundamental skills of balance and focus. As a college student, there are so many opportunities and potential paths you can take to explore your intellectual curiosity and prepare for a fulfilling career. Four years is a relatively limited amount of time to develop your vision and it always seems like there is not enough time to accomplish the day's tasks. To help combat this, I'm reminded to focus on what I most connect with and am passionate about. With the support of my family, friends, and other talented individuals like my academic advisor, Cindy Martinez, I have learned the importance of focusing on my own objectives and aspirations while continuing to ask questions, seek advice, and connect with people I admire from various fields of study to develop a diverse and global network and perspective. p>
What advice do you have for incoming students? 
While this is easier said than done, my advice would be to do what you love and do the best that you can! To begin, I would recommend students to challenge and immerse themselves with all that Annenberg and the greater USC community has to offer. Continue to ask questions, take risks, seek mentorship, build relationships both in and outside the classroom, and explore the greater LA area. I always try to remind myself of what a privilege it is to attend such a beautiful, prestigious University and to make the most of out my time here at USC.