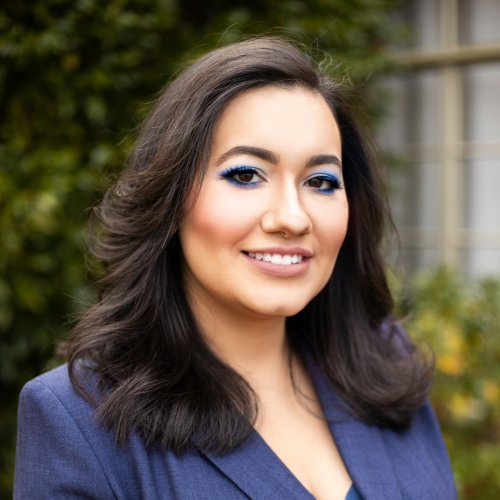 Hannah Vega
Talent Management & Strategy Specialist, Magnolia Network; Broadcast and Digital Journalism (BA); Alumni Advisory Board Member
Hannah Vega is a talent management and strategy specialist at Magnolia Network, Warner Bros. Discovery's joint venture with Chip and Joanna Gaines, managing all relationships with on-air talent as well as gifting on behalf of the network.
Prior to being invited to launch Magnolia Network, Vega worked as the talent relations coordinator for the Oprah Winfrey Network (OWN), on personal projects of Ms. Winfrey's, and across the global Discovery portfolio. In this position she liaised with OWN Scripted and Unscripted talent; pitched and booked celebrities for the other Discovery networks and for Ms. Winfrey; supervised talent experience from award shows and press events to production and marketing shoots; and coordinated talent travel. In addition to this, she oversaw gifting on behalf of Ms. Winfrey, OWN President Tina Perry, and Harpo Films Executive Vice President Carla Gardini.
Prior to joining the Discovery family, Vega worked for Turner and WarnerMedia. Vega freelanced on documentaries for CNN Films, including John Lewis: Good Trouble (2020), worked for Turner Studios (primarily for TNT) and Turner Classic Movies (TCM), and years earlier, Vega's first internship was at CNN.
Before her time at WarnerMedia, Vega worked in daytime and unscripted TV development in Los Angeles alongside top executive producers from The Oprah Winfrey Show, Dr. Oz and Dr. Phil. To this day, she continues to provide consulting services for executive producers, national news correspondents and celebrities regarding personal branding, social media, and show development.
Other past experiences include internships producing and reporting at NBC News and KABC-TV (ABC7 Los Angeles), developing social media strategy and overseeing show social accounts at E! Entertainment Television, and training at boutique PR firms where she worked with high profile figures and collaborated with companies such as Facebook, LG, Delta Airlines, Bovet and the Los Angeles Times. She also studied content strategy with top executives at Facebook, Instagram and YouTube.
Vega graduated from the University of Southern California (B.A. Broadcast and Digital Journalism, May 2018).
Vega is most passionate about politics, civil rights and education. She loves film, art, design and food.