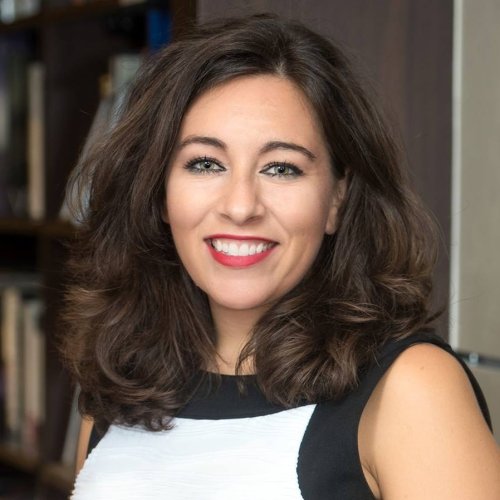 Elizabeth Donatelli
Veteran TV Reporter; Executive Producer, Seven Shots Productions; Director, National Journalism Center; Broadcast Journalism (BA); Alumni Advisory Board Member
After an award-winning career in television news, Elizabeth Donatelli began her own production company, Seven Shots Productions, which creates videos for companies, nonprofits and unscripted television shows. She recently finished two seasons as the show producer for an online investigative program and runs the National Journalism Center based in the Washington, DC area.
The Washington, DC-native attended the University of Southern California where she graduated with a broadcast journalism degree from USC Annenberg and a minor in critical approaches to leadership. As a student, she interned at ABC News, MSNBC and Torrance CitiCABLE.
In 2005, Donatelli started her broadcast career at WCAV/WVAW/WAHU in Charlottesville, VA, where she spent two years as a reporter while also shooting and editing her own stories. Donatelli produced and anchored the launch of the station's noon newscast and reported on both the night and morning shifts.
In 2007, Donatelli headed to WAVE in Louisville, KY, just in time for the Kentucky Derby. She spent three of her five years in the bluegrass covering the General Assembly in Frankfort. Donatelli routinely sparred with other veteran reporters on KET's Comment on Kentucky, a roundtable for journalists. She also covered the highly publicized rise of Tea Party star, Senator Rand Paul, for which she was awarded honors from the Associated Press and Society of Professional Journalists. While in Louisville, she was nominated for five Emmys.
Her career took her to Las Vegas, Nevada, to cover the 2012 Presidential race. While in Nevada, she spent two years at KSNV where she was nominated for four Emmys.
Donatelli has also appeared on CNN, MSNBC, NBC's Nightly News and the Weather Channel, among other networks.
After ten years in the news industry, Donatelli transitioned her storytelling skills as the senior producer at Insight Visual Media, where she wrote, shot, edited and produced YoungWild on the Sportsman Channel. In her time in Oklahoma City, she supervised a set-build, redeveloped the format to include more character interviews and less narration, and introduced sidebars stories and new characters.
Once that show wrapped, she continued working in long-form video producing, a 45-minute online news magazine program. She was in charge of research, field producing and post-producing each episode that investigated various topics from wrongful convictions to the collapsing commercial fishing industry to data mining youth.
In 2014 she moved back to Washington, DC, where she began her own video production company. Donatelli has worked across the country and even traveled as far as Uganda for a project documenting the building of schools in rural areas.
Donatelli also runs a highly competitive journalism program for college students interested in media. Interns spend 12 weeks in the DC area reporting at news outlets and publications, while attending lectures and seminars.
In her spare time, Donatelli enjoys traveling and has turned that passion into a successful travel website and YouTube channel. She also enjoys soccer, which she has coached and played since her youth.