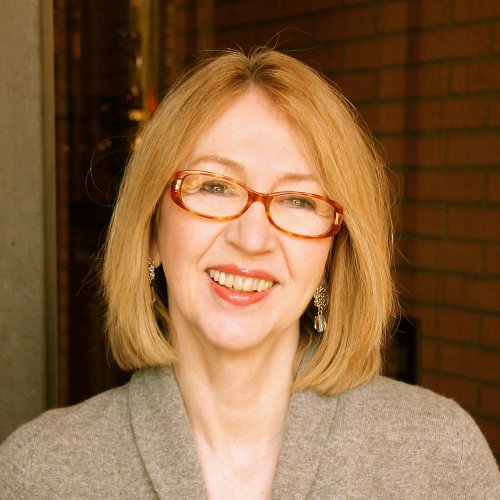 Margaret
McLaughlin
Professor of Communication
Program
Communication (PhD)
Phone
213-740-3938
Office
ASC 301D
Office Hours
W 1:00pm
More

Margaret
Expertise
Health Communication
Health, Social Media and Underserved Populations
Technology Use by Older Adults
Margaret L. McLaughlin is Professor of Communication at the Annenberg School for Communication and Journalism, University of Southern California. She is a former president of the International Communication Association, founding co-editor of Journal of Computer-Mediated Communication, and a former editor of Communication Yearbook and Communication Monographs. She currently serves on the editorial boards of Discourse and Communication, Journal of Computer-Mediated Communication, Discourse Studies, and Journalism and Mass Communication Quarterly. Her books include Conversation: How Talk is Organized; The Psychology of Tactical Communication (co-edited with M. Cody); Explaining One's Self to Others: Reason-giving in a Social Context (co-edited with M. Cody and S. Read); Network and Net-play: Virtual Groups on the Internet (co-edited with F. Sudweeks and S. Rafaeli); and Touch in Virtual Environments: Haptics and the Design of Interactive Systems (co-edited with J. Hespanha and G. Sukhatme).
Her work has appeared in top journals in the field including JCMC, Cyberpsychology, Behavior and Social Networking, Journal of Racial and Ethnic Health Disparities, Journalism and Mass Communication Quarterly, Health Communication, Journal of Health Communication, Communication Research, Computers in Human Behavior, Journal of Communication, Journalism Studies, Journal of Language and Social Psychology, Human Communication Research, and Communication Monographs. She has won numerous top paper awards for her work presented at professional conferences, including meetings of the National Communication Association, HCI Virtual and Mixed Reality conference, and HCI Conference on Cross-Cultural Design. Funding for her research has been provided by Hitachi America, the USC Arts Initiative, TATRC, National Institutes of Health, the Zumberge Foundation, the National Science Foundation, and the Annenberg Trust. At USC she has chaired the Faculty Advisory Committee on Technology Enhanced Learning, served on the University Research Committee, and chaired the USC Task Force on Online Identification and Assessment Procedures.
New projects
McLaughlin's newest project is on family caregiver use of communication technology to cope with threats to the safety of dementia patients, which can be occasioned both by their tendency to wander and get lost and to experience (or create) various hazards within the home. Technologies such as GPS-enabled smartwatches and motion detecting webcams are being used by increasing numbers of caregivers who want to take additional precautions to protect their loved ones when they are unable to be present or give them undivided attention. Results will be based on a survey with 200 US adults who are the primary unpaid caregivers for relatives formally diagnosed with some form of cognitive impairment including Alzheimer's Disease, Lewy Body Dementia, Frontotemporal Dementia, and others.
Another new project has been funded by the Department of Health and Human Services Health Resources and Services Administration with two grants to the USC Keck Maternal, Child and Adolescent/Adult Center for Infectious Diseases and Virology. Nearly a dozen Annenberg Ph.D. students are participating in some phase of the project. The focus of the study is on promoting and monitoring adherence to antiretroviral medication in HIV+ young adults who are clients of the Center but having difficulty adhering to their medication. The intervention, which is based on the IMB (Information, Motivation, Behavioral Skills) model and the ecological momentary assessment approach, will use face to face and mediated (Snapchat) social networks to promote adherence. The project has been recently expanded to develop the intervention with HIV+ teens from the Boyle Heights area of Los Angeles.
Recently completed projects
McLaughlin and students recently completed two published studies of public attitudes and beliefs about an FDA-approved drug for the prevention of HIV, expressed on social media sites. A follow-up data set is being collected on social media talk about the drug, Truvada, prompted by the recent suggestions from reputable health authorities that widespread prescribing of Truvada to HIV-negative patients may have led to a crisis in sexually transmitted diseases other than HIV due to a decline in condom use associated with availability of the pre-exposure prophylaxis. The project is available by clicking here.
A recent paper with students Xam Chan, Yao Sun and Yusi Xu looked at condom use among US-dwelling Chinese women and gay men. The first looks at the condom use practices of gay Chinese men, focusing on the role of acculturation to both Chinese and US cultures in safe sex behaviors. A second study was recently completed looking at Chinese women's negotiation of safe sex practices as a function of relational power dynamics.
Another project, with doctoral student Yao Sun, looked at the role of smartphone use in successful aging, examining how technology is being used to compensate for age-related sensory and cognitive changes. Data for this study was collected via Qualtrics from 160 older adults. The project was published in the HCI proceedings volume Human Use of IT for the Aged Population.
A recent social media project looked at the popularity of anorexia-related text and image content on Tumblr as a function of personal narrative and message vividness.
Project citations
McLaughlin, M. L., Hou, J., Meng, J., Hu, C., An, Z., & Nam, Y. (2016). Propagation of information about pre-exposure prophylaxis (PrEP) for HIV prevention through Twitter. Health Communication, 31 (8), 998-1007. https://doi.org/10.1080/10410236.2015.1027033
Chan, X., Sun, Y, Xu, Y, & McLaughlin, M. L. (2017). Acculturation to both American and Chinese cultures predicts condom use intent among US-dwelling Chinese/Taiwanese men who have sex with men, Journalism and Mass Communication Quarterly, 94(2), 554-570. https://doi.org/10.1177/1077699017692522.
J. Zhou and G. Salvendy (Eds.), Human aspects of IT for the aged population: Design for aging. Volume 9754 of the series Lecture Notes in Computer Science, pp. 490-500. Springer International Publishing. DOI 10.1007/978-3-319-39943-0_47
Park, M., Sun, Y., & McLaughlin, M. L. (2017). Social media propagation of content promoting risky health behavior. Cyberpsychology, Behavior and Social Networking, 20(5), 278-285. doi: 10.1089/cyber.2016.0698