Donna Gigliotti
President, Tempesta Films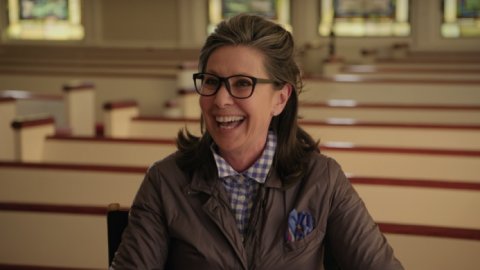 Donna Gigliotti is one of only nine women to win an Academy Award for Best Picture. She received the 1998 Oscar for producing Shakespeare in Love. Among its thirteen nominations, seven Oscars were awarded the film, including Best Actress (Gwyneth Paltrow), Best Supporting Actress (Judi Dench) and Best Original Screenplay (Tom Stoppard and Marc Norman). Gigliotti also received the 1999 Golden Globe for Best Picture/Comedy and the 2000 British Academy Award (BAFTA) on behalf of the film.
In 2009, Gigliotti was nominated again for Best Picture for producing The Reader, directed by Stephen Daldry. The film was nominated for a total of five Academy Awards, including Best Actress, which star, Kate Winslet, ultimately won. The Reader was also nominated for the 2008 Golden Globe for Best Picture/Drama, the 2008 British Academy Award (BAFTA) for Best Picture and the 2009 European Film Award.
Gigliotti's third Best Picture/Academy Award nomination was granted in 2013 for Silver Linings Playbook, directed by David O. Russell. The film received seven nominations and achieved a rare feat in Academy Award history. All four actors (Bradley Cooper, Jennifer Lawrence, Robert DeNiro, Jackie Weaver) were nominated in their lead or supporting categories; Jennifer Lawrence ultimately won the Best Actress Academy Award. The film was also nominated for five Independent Spirit Awards and won in four categories including Best Picture. Additionally, four Golden Globe nominations were awarded to Silver Linings Playbook. Gigliotti won the 2013 Best International Picture Award from the Australian Academy of Film.
Gigliotti's fourth Best Picture/Academy Award nomination was granted in 2017 for Hidden Figures. The film recounts the story of three black women mathematicians whose work at NASA proved integral to the United States' successful space program. It was a worldwide success, grossing an astonishing $230 million and has inspired a national conversation about women and STEM.
Gigliotti currently serves as President of Tempesta Films, a film production company based in New York. Her recent credits include Cary Fukunaga's Beasts of No Nation starring Idris Elba and Rob Burnett's Revised Fundamentals starring Paul Rudd.
Formerly, Gigliotti served as president of production at The Weinstein Company beginning in 2010 where, in addition to executive duties, she also produced I Don't Know How She Does It, starring Sarah Jessica Parker. She was instrumental in the productions of My Week With Marilyn, starring Michelle Williams, Our Idiot Brother, starring Paul Rudd, W.E., starring Andrea Riseborough and the animated film, Escape from Planet Earth.
Previously, Gigliotti served as President of Production at USA Films, a division of Barry Diller's USA Entertainment Group. During her tenure, the company produced Steven Soderbergh's Traffic (winning Best Director, Best Actor and Best Original Screenplay Oscars in 2001), Robert Altman's Gosford Park (winning the Best Original Screenplay Oscar in 2002), Neil LaBute's Posession starring Gwyneth Paltrow and Joel and Ethan Coen's The Man Who Wasn't There. Gigliotti was also responsible for the acquisition of Mira Nair's Monsoon Wedding and Wong Kar-wai's In the Mood for Love.
Gigliotti was executive vice president at Miramax Films from 1993 to 1996, where she oversaw and executive produced several films including Doug McGrath's Emma, starring Gwyneth Paltrow; Michael Hoffman's Restoration, starring Robert Downey Jr.; and Franco Zefferelli's Jane Eyre, starring Charlotte Gainsbourg.
Additional producing credits include Let Me In, directed by Matt Reeves and starring Kodi Smitt-McPhee and Richard Jenkins, which was nominated for Best Film at the 2010 Gotham Awards; Two Lovers, directed by James Gray and starring Gwyneth Paltrow and Joaquin Phoenix, which competed in the 2009 Cannes Film Festival and was named one of the Top 10 Independent Films of 2009 by the National Board of Review; Shanghai, directed by Mikael Halfstrom and starring John Cusack and Gong Li; The Good Night, starring Gwyneth Paltrow and Penelope Cruz; and Vanity Fair, directed by Mira Nair, starring Reese Witherspoon.
Gigliotti began her career in the motion picture industry as an assistant to Martin Scorsese on Raging Bull.
Following her work on Raging Bull, Gigliotti moved to United Artists, where she was the director of acquisitions for specialty division UA Classics. There, with partners Tom Bernard and Michael Barker, she acquired Jean-Jacques Beineix's Diva, François Truffaut's The Woman Next Door and Rainer Werner Fassbinder's Veronika Voss.
Next, Gigliotti moved (with Bernard and Barker) to form Orion Classics for Arthur Krim, former chairman of United Artists and then chairman of Orion Pictures Corporation. Orion Classics proved to be the preeminent distributor of specialized films during the 1980s. Gigliotti was responsible for the acquisition of such films as Louis Malle's Au Revoir les Enfants, Pedro Almodovar's Women on the Verge of a Nervous Breakdown, Steven Frears's My Beautiful Laundrette, Akira Kurosawa's Ran, Claude Berri's Jean de Florette and Gabriel Axel's Oscar-winning Babette's Feast.
In 1985, Gigliotti became the youngest woman knighted to the rank of Chevalier des Arts et des Lettres by the French Republic. She is a member of the Academy of Motion Picture Arts and Science, the European Film Academy and the Producer's Guild of America. Gigliotti is a graduate of Sarah Lawrence College.