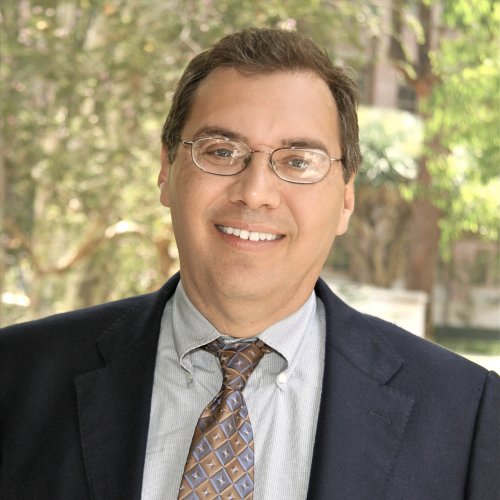 Bill
Celis
Associate Professor
Program
Journalism (B.A.)
Journalism (M.S.)
Phone
213-821-0763
Office
ASC 303
More

Bill
Download

CV
Expertise
Education
IDEA
Long-form Journalism
Media History
Bill Celis, a former national correspondent for The New York Times, and a former reporter and columnist for The Wall Street Journal, is an associate professor of journalism and serves as USC Annenberg's associate dean for diversity, inclusion and strategic initiatives. He also holds appointments in USC Dornsife College of Letters, Arts and Sciences and USC Rossier School of Education.
In his role as associate dean, Celis provides critical day-to-day support for USC Annenberg's students, faculty and staff to enhance diversity, equity and inclusion efforts by holding regular open office hours to discuss concerns; creating a strategic communications plan that amplifies the school's commitment to campus climate, access and opportunity; promoting available resources; collaborating with school and community organizations; monitoring fair and equal treatment of all; and reporting to the school and the Provost's Office issues around climate.
Celis was most recently the coordinator of the undergraduate journalism program in which he oversaw the revision of the undergraduate journalism degree. He previously served as associate director at the journalism school, where he helped revise the graduate journalism degree. He created the summer associates program, a collection of more than 20 paid internships for students in the new degree. Additionally, he managed the school's graduate admissions, student affairs and use of technology in the curriculum. Having served on the USC Annenberg faculty since 2000 and as former chair of the Annenberg Diversity Initiative, he helped lead a combined school effort that garnered USC Annenberg the 2012 AEJMC Equity and Diversity Award.
At USC Annenberg, he has taught a variety of courses for undergraduate and graduate students and directed the graduate thesis and comp exams. Celis has taught courses in education and urban affairs reporting, magazine writing, news reporting and writing and media history. His classes in 2006 were among the first in the journalism school to consistently produce content across platforms. He won the 2011 USC Provost's Prize for Teaching with Technology, with Wendy M. Chapman, former director of Annenberg Web Technologies. Through their pilot, USC Annenberg became among the first journalism schools in the country to test the use of mobile technology as a reporting tool from the field. He also received the 2007 Outstanding Print Instructor from the Annenberg Graduate Student Representatives Association.
As part of his teaching, he conceived and helped create Intersections: The South Los Angeles Report, the first community news website at USC Annenberg. In 2012, he was named one of the country's 100 Web-Savvy Professors; a Top 50 Journalism Professor; and in 2010, was named one of 50 journalism professors worth following on Twitter.
His work on education reform, access and inclusion and media diversity over two decades has appeared in a variety of publications from The New York Times and the Boston Globe to Newsweek, The Conversation and Southern California Public Radio. His writing has also appeared in leading academic journals, including Columbia University's Teachers College Record and Brown University's, Voices in Urban Education.
Celis is the author of Battle Rock: The Struggle Over A One-Room School in America's Vanishing West (Public Affairs, New York, 2002). His forthcoming book on the 1973 U.S. Supreme Court decision, San Antonio Independent School District vs. Rodriguez, explores the intersection of the Latino Civil Rights movement and access to public education. This federal lawsuit is considered by historians and education experts as a bookend to the U.S. Supreme Court's landmark ruling in Brown v. Board of Education.
He is a member of several professional organizations, including the Education Writers Association, the National Association of Hispanic Journalists, and the Online News Association.  He has worked with a variety of groups on media, education and diversity, including the Poynter Institute, the National Association of Hispanic Journalists, Online News Association and the Society of Professional Journalists.
Celis earned his master's degree from Columbia University's Graduate School of Journalism. There he was awarded an Overseas Press Club fellowship to report on Mexico's economic and immigration issue. He earned a bachelor's degree in journalism and English from Howard Payne College, a small liberal arts college in his native Texas.
Course Titles