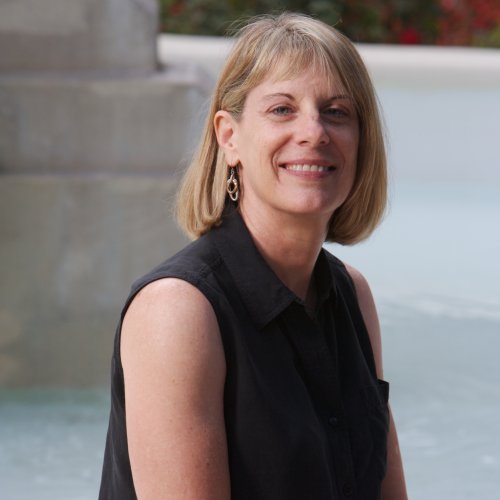 Pamela
Starr
Associate Professor (Teaching) of International Relations
Program
Public Diplomacy (MPD)
Phone
(213) 740-4122
More

Pamela
Expertise
Comparative Political Economy of Latin America
Foreign Policy
Mexican Politics
Public Diplomacy in the Americas
U.S.-Mexican Relations
Dr. Pamela K. Starr is the director of the U.S.-Mexico Network, a university fellow at the USC Center on Public Diplomacy, and an associate professor of teaching in the School of International Relations and in Public Diplomacy. She came to USC from the Eurasia Group, one of the world's leading global political risk advisory and consulting firms, where she was senior analyst responsible for Mexico.
Prior to that, she spent eight years in Mexico as a professor of Latin American political economy at the Instituto Tecnológico Autónomo de México (ITAM), a private university in Mexico City. Dr. Starr is an active speaker, commentator, and author on Mexican politics, economics and foreign policy, and on economic reform and policy making in Latin America. She is the author of a 2009 Pacific Council on International Policy report, "Mexico and the United States: A Window of Opportunity?", the Council on Foreign Relation's special report on the 2006 Mexican election, "Challenges for a Postelection Mexico: Issues for US Policy", and is currently writing a book on Mexico entitled " A Quarter Century of Policy Reform in Mexico: Unexpected Drivers and Unintended Consequences. Starr has also worked as a consultant to investment banks and securities firms, has briefed officials on both American and Mexican officials on the bilateral relationship, including Secretary of State Hillary Clinton, US Ambassador Carlos Pascual, Mexican Senator Carlos Navarrete, and gatherings of staffers from the Foreign Relations Committees of the US and Mexican Senates. Dr. Starr's research and writing focuses on three main topics: U.S.-Mexico relations, the politics, economy and foreign policy of contemporary Mexico, and the politics of economic policy-making across Latin America.
In a series of books and book chapters, peer-review journal articles and policy-oriented publications, Dr. Starr has also illuminated the interplay between political and economic developments in shaping economic policy in Mexico and Latin America. On the basis of this research, Dr. Starr has given talks throughout the hemisphere to a wide range of audiences, including the World Economic Forum, the IMF, the Inter-American Development Bank, the US Department of State, the US Embassy in Mexico City, the US State Legislative Leaders Foundation, the Mexican legislature and the Ecuadorian Central Bank. Dr. Starr has held research positions in Argentina and Brazil and at the Center for Strategic and International Studies (CSIS) in Washington, DC. She has received grants and fellowships from the Pew Charitable Trusts, the Earhart Foundation, the Organization of American States and the Woodrow Wilson International Center for Scholars. Dr. Starr is an associate of the Inter-American Dialogue and an active member of the Latin American Studies Association and the American Political Science Association.
After receiving her PhD from the University of Southern California in 1993, Dr. Starr worked as a visiting assistant professor at the University of California, Los Angeles before moving to ITAM in 1997.

Education
Ph.D. International Relations, University of Southern California, 1993
M.A. Latin American Studies, Tulane University, 1983
B.A. Political Science, California State University, Northridge, 1982

Academic Appointment, Affiliation, and Employment History
Tenure Track Appointments
Professor, ITAM, 08/01/1997-06/30/2005

Non-Tenure Track Appointments
Adjunct Fellow for Mexico and U.S.-Mexico Affairs, Pacific Council on International Policy, 02/20/2008 - 2010
Senior Associate (Non-Resident), American Program, Center for Strategic and International Studies (CSIS)

Other Employment
Latin America Analyst , Eurasia Group , 07/01/2006-08/03/2007

Description of Research
Summary Statement of Research Interests
During the past year I have focused both my teaching and research heavily on my fascination with Mexico – its politics, economic policy, and relationship with the United States. Following up on my 2009 report for the Pacific Council, The United States and Mexico 2009: A Window of Opportunity?, this included a new undergraduate course on "Mexico and its Relations with the United States" which I taught in the spring and fall 2010 semesters; publishing two papers on Mexico-related issues with a third to be published this fall, plus two review essays; commenting in various venues in Mexico and the U.S. on Mexico and U.S.-Mexico affairs; and beginning a book tentatively entitled "Twenty-Five Years of Policy Reform in Mexico". Perhaps most interesting, however, is a prototype web site on Mexico and U.S. Mexico affairs, the "U.S.-Mexico Network @ USC" developed with the financial and logistical support of the College and with small grants from the Annenberg School for Communication and Journalism and the Center for International Studies. The web site is designed to be a virtual conference center where three kinds of conversations can take place simultaneously on a wide range of Mexico-related issues – hallway chats where participants discuss whatever issue happens to be on their minds; virtual seminars; and virtual links to real world conferences that expand both the number of participants and the time they can interact. The objective is for these conversations among academics, journalists, public intellectuals, and other "informed" individuals is to generate new ideas, new collaborations and mentoring relationships, and new lines of bilateral communication and understanding.

Research Specialties
Mexican Politics and Foreign Policy; US-Mexican Relations; Public Diplomacy in the Americas; Comparative Political Economy of Latin America

Affiliations with Research Centers, Labs, and Other Institutions

Other Research
Designing, initiating, and managing the U.S.-Mexico Network@USC, a proto-type of what should develop into a novel web site project that promotes informed conversations among academics, journalists, and other opinion leaders on both sides of the border on a wide range of issues related to Mexico and US-Mexico affairs. During its first year of operation, these conversations have included virtual seminars based on the research projects of USC graduate students; virtual links to two real world conferences including the 2010 Latin American Studies Association Congress; and series of discussions on relevant current issues in the areas of public health, arts & culture, security, migration, economics & politics, and US-Mexico relations. The Network made a special effort to encourage its participants to exchange opinions during Mexican President Felipe Calderon's state visit to Washington, DC, in May 2010 and the Mexican midterm elections in July and has provided a constant conversation on the difficult security situation in Mexico and its impact on the bilateral relationship. The ability of the Network to attract participation from throughout North America has enabled it to make a solid down payment toward its aim of using the power of the internet to expand the binational debate – in numbers of participants, in geographic scope, and in regularity – beyond what can be done in a traditional research center and to thereby generate an expanding array of mentoring relationships and unexpected acquaintances, cross-disciplinary conversations, and scholarly and non-scholarly collaborations., 2009-2010.
Service to the University
Administrative Appointments
Director, U.S.-Mexico Network, 2011 - present
Publications
Book
Starr, Pamela K and Oxhorn, Philip (Ed.). (1999). Markets and Democracy in Latin America: Conflict or Convergence?. Boulder, CO: Lynne Rienner.
Book Chapter
Starr, P. K. (2010). U.S.-Mexican Relations and Mexican Domestic Politics. Oxford Handbook on Mexican Politics New York, NY: Oxford University Press.
Starr, P. K. (2005). Mexican Foreign Policy". In Laura Randall, ed. The Changing Structure of Mexico: Political, Social and Economic Prospects, 2nd edition. pp. 49-57. Armonk, NY: M.E.Sharpe.
Starr, P. K. (2005). Pax Americana in Latin America: The Hegemony behind Free Trade". In Jorge I. Dominguez and Byung-Kook Kim, eds. Between Compliance and Conflict: East Asia, Latin America, and the "New" Pax Americana. pp. 77-109. New York and London: Routledge.
Starr, P. K., David, A. (2003). El interludio Castañeda y el sueño de América del Norte, In Rafael Fernández de Castro, ed. En la Frontera del Imperio: México en el Mundo 2003. Mexico, DF: Planeta.
Starr, P. K. (2002). Dollarization in Mexico: Does It Make Sense and Is It Likely?" In Carl A. Cira and Elisa N. Gallo, eds. Dollarization and Latin America: Quick Cure or Bad Medicine?. Miami, FL: Latin American and Caribbean Center, Florida International University.
Starr, P. K. (1999). The Politics of Exchange Rate Management in Mexico and Argentina, 1994-1995", in P. Oxhorn and P. Starr, eds. Markets and Democracy in Latin America: Conflict or Convergence?. pp. 203-238. Boulder, CO: Lynne Rienner.
Starr, P. K. (1999). International Financial Institutions in Latin America", in Jorge Dominguez, ed. The Future of Interamerican Relations. pp. 131-152. New York and London: Routledge.

Book Review
Starr, P. K. (2009). The Political Economy of Reform in Latin America: Politics, Institutions, Ideas, and Context. Latin American Research Review. pp. 224-234.
Conference Proceeding
Starr, P. K. (2008). Mexico Under Calderon: Prospects for the Bi-Lateral Relationship. 5. pp. 7-12. Washington, DC. Aspen Institute.
Journal Article
Starr, P. K. (2009). Neither Populism nor the Rule of Law: The Future of Market Reform in Mexico. Law and Business Review of the Americas. Vol. 15 (1 (2009)), pp. 127-151.
Starr, P. K. (2001). Pesos for Dollars? The Political Economy of Dollarization in Latin America. The Brazilian Journal of Political Economy. Vol. 21 (1), pp. 62-77.
Starr, P. K. (1999). Monetary Mismanagement and Inadvertent Democratization in Technocratic Mexico. Studies in Comparative International Development. Vol. 33 (4), pp. 35-65.
Starr, P. K. (1997). Government Coalitions and the Viability of Currency Boards: Argentina Under the Cavallo Plan. Journal of Interamerican Studies and World Affairs. Vol. 39 (2), pp. 50.

​Monograph
Starr, P. K. (2009). Mexico and the United States 2009: A Window of Opportunity?. Pacific Council on International Policy.
Starr, P. K. (2006). Challenges for a Post-Election Mexico: Issues for US Policy. Council on Foreign Relations.