You will develop a mastery of communication theories, research methods and management skills needed to succeed in today's complex business ecosystem.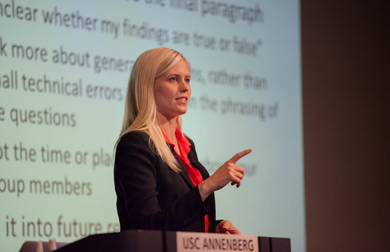 Through a personalized course of study, you will acquire the knowledge and tactics to decipher, design and execute effective communication strategies understood and valued by executives, managers, stakeholders and customers. Our expert faculty will prepare you to work with people and organizations as they process information, react to stories, engage social media and adapt to change.
As a global hub for the media, entertainment and technology industries, Los Angeles provides the perfect environment as you explore how to integrate communication research with day-to-day implementation in a wide range of areas — including Fortune 100s, start-ups and consulting firms.
What Makes Us Different
The M.C.G. is a management degree focusing on communication — and communication is about people. We think critically about people and how they process information, react to stories told visually as well as written, use social media interactively rather than as unidirectional broadcast and how people handle change. We care about numbers — our numbers are data about people: market research, organizational employee surveys, focus groups, message impact and content analysis.
M.C.G. is the oil that makes the organizational machine work better, produce better results, create engagement — no matter what the organization's goals might be. That is why our graduates are in such a variety of jobs and organizations and industries. Fortune100s to start-ups; aerospace to entertainment: consulting to marketing; corporate communication to entertainment programming and scheduling.
Skills You Will Build
Throughout the program, you will learn how to:
make strategic decisions around communication business issues based on what you know about an organization's strategies, goals and objectives and on the applicable communication research;
utilize written and oral advocacy skills to articulate key stakeholder communication issues, identify appropriate strategies and tactics, assess and measure effects, and quickly and effectively adapt as situations change;
approach communication issues with an understanding of the appropriate data-gathering methodologies and be able to collect, analyze and interpret the data, thus fostering the problem-solving and decision-making skills essential to a management-level career.
Areas of Focus
The Marketing Communication track focuses on the management of business communication with customers, clients and general consumers outside the organization. It is particularly valuable for individuals with career interests in marketing and sales, publicity and promotions, market research, marketing management, social marketing, advertising, public relations, public communication campaigns, and public or community affairs.
This Media and Entertainment track is for students who wish to pursue or expand careers in media and entertainment fields. Students will study the increasing complex possibilities afforded by the convergence and globalization of media and entertainment.
The Health and Social Change Communication track centers on how to influence positive behavioral and social change through effective communication messages and campaigns. Topics covered in the courses in this track include audience analysis, marketing communication and the selection of media channels. It is particularly valuable for individuals with career interests in the health, non-profit and public sectors.
The International and Intercultural Communication track is for students who wish to pursue or expand careers in international and intercultural communication management. Students will study the latest developments in communication technologies, organizations, industries, and markets in cross-national, cross-cultural contexts.
The New Digital Technology track focuses on a deeper understanding of new communication technologies' impact on individuals, organizations, and markets.
The Organizational and Strategic Corporate Communication track examines both the communication functions as well as the process of communication within organizations. It is particularly valuable for individuals with careers and/or career interests in human resource management, corporate communication, strategic planning, operations management, communication consulting, and other general management functions.
Program Design
You may complete the degree program at your own pace. The most expedient track covers four terms (fall, spring, summer and fall). Students also have the opportunity to complete the program by enrolling in as few as one course per term (with or without summer sessions). Most students complete the degree program in two years (without summer sessions). International students on an F-1 visa must enroll in a minimum of 8 units (two courses) each Fall and Spring semester.