USC Annenberg Magazine, Fall 2021

Feature Story
Mike Ananny walked his dog this morning. He did so with no expectation of privacy.
"I know that I was subject to a wide variety of cameras, whether it's Ring doorbells, cars driving along, or even city traffic cameras," he said. "I didn't choose to participate in this whole variety of video surveillance systems. I just took my dog for a walk."
Ananny understands that, wherever he goes, data about him is being collected, analyzed and monetized by artificial intelligence (AI).
Kate Crawford drove a van deep into the arid Nevada landscape to get a good look at the evaporating brine ponds of the Silver Peak Lithium Mine.
Those desolate swaths of liquid are not only the biggest U.S. source of lithium — the metal that is essential to the batteries that power everything from laptops to mobile devices to electric cars — they are also a vivid reminder of the impact AI has on the material world.
Dean's Note: The Future Is Here
by Willow Bay
Dean and Walter H. Annenberg Chair in Communication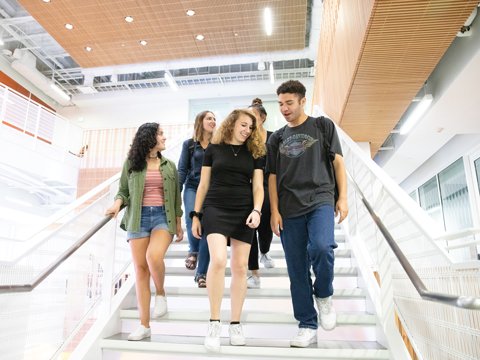 Photo by: John Davis
It's hard to offer predictions in a world still navigating a once-in-a-lifetime pandemic. But, when I was asked to weigh in for the
Center for Public Relations
' latest
Relevance Report
, I knew the one thing I would bet on: USC Annenberg's Class of 2022. With all their passion, purpose and mission-critical communication skills, I believe they will command our attention in the years ahead.
This class will join the workforce with a firm grasp on what it means to be changemakers as communication continues to reshape the way we live, work, play, solve problems and consider our future. In our classrooms, they have been analyzing and reflecting upon the profound disruption, reinvention and innovation in media and communication — particularly the ways in which media is produced, distributed, consumed and understood. Along with these changes, they have been asking urgent questions about free speech, access to information, the spread of misinformation, the erosion of trust, and truth and accuracy.
As a result of their education, lived experiences and professional development, I believe this class will help solve some of our most intractable societal problems, and will inspire us in the process.
Consider ZaZu Lippert, Mariah Hill and Davonte Burnett, whose achievements are highlighted in this issue. ZaZu is the executive producer of #PRFuture — a podcast that covers shifts in the PR industry's approach to complex issues such as polarization and activism. Mariah, the first recipient of the ViacomCBS Diversity in Journalism Scholarship, is delving into questions of race and culture. And Davonte is one of 13 USC Annenberg student and alumni athletes who participated in the 2021 Olympics.
Given the challenges we face, we need the Class of 2022's energy and determination more than ever. We are excited for them to join our USC Annenberg alumni community as partners, colleagues and collaborators. As they start on this new journey, remember, they need our help, too. They need us to listen. They need mentorship. With a brand new year on the horizon, I can't think of a more important use of our resources.
I have seen the future. I can't wait for you to work alongside them.