Recent alumnus and CNN assignment editor Nick Valencia (B.A. Broadcast Journalism '05) says the complaints he hears about journalism being tough come as no surprise to him. But he'd rather not sympathize.
"It's hard to be sympathetic when someone complains about a job, when it's easy for them to love what they're doing," said the ambitious Valencia, who parlayed an eventful undergraduate career at USC Annenberg into a career he loves. "I knew what I wanted to do when I was 14 years old. I knew I wanted to be a journalist. That hasn't changed, my passion has only gotten stronger. Getting up at 2 a.m., coming in on three hours sleep, reporting on breaking news like the Haiti earthquake. At 26 years of age I can't believe I'm in this position. Sometimes there are things that go on and I think, 'How the heck did I get here?'"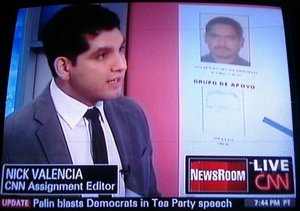 Valencia got there in a way that was equal parts luck, pluck and chivalry. On a flight to Atlanta, his cousin Mark saw a radio correspondent who dropped her purse, spilling a CNN badge and spawning a conversation that ended with a request for information and a promise to look into cousin Nick's resumé.
"In January I get a call from a recruiter asking if I'd be interested in a job as a video producer for CNN," Valencia said.
Although it was a fortuitous set of circumstances that led him to CNN, Valencia made it clear that hard work and fine training were at the core of his early and rapid success.
"I did pretty well at Annenberg and was around the top of my class, but I didn't really know what to do and didn't really know about being a professional," Valencia said. "So we were the 'guinea pig class' in convergence journalism. They sat us down and said 'Listen, you are going to be the next generation in journalism.' It gave me a complete leg up on the journalism students who were coming out of school."
He said separating himself from the pack and showing his uniqueness ultimately landed him the job.
"It was knowing how to write a piece for a newspaper, having an understanding of what dot-com was, Internet reporting, banging out a two-minute package in 10 minutes, voicing a package. Getting to CNN I really wanted to set myself apart and show them that I had skills. I wouldn't have been able to do that if weren't for USC.
Serena Cha, director of Annenberg TV News, remembered a particular trait of Valencia's that certainly set him apart early on in his broadcast career.
"Nick was known at ATVN for being an idealist and for being passionate about news," Cha said. "He is not superficial and thinks deeply about the responsibilities of a journalist."
Eventually, Valencia said, he wants to be a bureau chief at CNN – a job he has seen many take on and one that appeals to his individual skill set – and he gives special credit to the man who started it all.
"Ted Turner has to knock on the front door of the house that he built," said Valencia, whose first day on the job was Turner's last at CNN – the two did end up meeting briefly. "That experience I'll cherish forever. I remember thinking 'Well, somebody's got to pick up the torch now and move this forward.' Him leaving CNN is one of the greatest disservices to democracy. I'm here because of him and that vision he had 30 years ago. I owe my career to him as well."
Turner might find Valencia's journey amusing, to say the least, as the billionaire CNN founder's arrival at the revolutionary 24-hour station he created was more momentous than Valencia's – by far.
"I was so broke when I first came here," Valencia said. "I moved here with three bags, using a vest a s a pillow and a tapestry as a blanket. This 50-dollar mattress I used as a bed. But I stuck with it, with the bad paycheck, working 14-hour days, rolling a teleprompter and cueing anchors to go to cameras they already knew they had to go to. I felt like I was getting in their way. But I loved it. Three days off? I'd come in to work. Tried to show my contribution to the company. Again, why should I have sympathy for people who complain about having to get up every morning and go to work?"
Sharing in his CNN success are other Annenberg graduates, and Valencia paid them notice while praising his alma mater.
"I feel lucky to work at CNN, but I feel that with my expertise, CNN is lucky to have a USC student," Valencia said. "I can't tell you how much faith I have in a USC journalist when they come to CNN. Kyra Phillips (B.A. Broadcast Journalism '90) is one. There's another who just came as a writer, Carolyn Cremen (B.A. Broadcast Journalism '05). We worked together in the ATVN newsroom and now we work together at CNN. They're both really good journalists."
But USC waitlisted Valencia when he first applied, making him think that he was not wanted by the university; nevertheless, despite his getting a "full ride" at Loyola Marymount's nearby and nascent journalism school, Valencia sorted things out and enrolled on time.
"I was ready to go to a community college," said Valencia, who called his acceptance letter "one of the biggest miracles" he ever received. "USC just made the most sense. The best journalism school west of the Mississippi and arguably in the U.S. This was the best gift I could ever ask for. I never looked back."
And right out of the gate, Valencia showed his colleagues at ATVN that he was special.
"He never settles and never compromises," ATVN's Cha said of Valencia. "He's an example of a graduate who has been successful while sticking to his beliefs."
Out of Annenberg barely four years, Valencia recalled it easily.
"We were required to pump out so much work then at Annenberg, as we were the first ones to do it, USC was new at it, even though the model has changed a little bit," said Valencia of the work back then. "(Journalism professor) Judy Muller was, and still is, one of my mentors. Her approach to journalism, working for Peter Jennings, being a west coast correspondent for years, gave me core values. This is a macro issue, Get to the core by personalizing the issue. The economy: how are you going to make the viewers understand? You personalize the story; find someone who is affected by it."
His exclusive coverage of the drug gang war in Juarez, Mexico – one of the most violent cities in the world – led Valencia to define that sensibility he sought as a journalist…one that had been formed at USC.
"I infiltrated a drug cartel bar…probably the most adventurous thing I've done," said Valencia, who became known as el Pocho ("the whitewashed one") to his subjects and for a time afterward received threats on his Facebook account. "But how are you going to make the American audience understand? That is the type of journalism that is taught at USC by its faculty."
Obstacles
"The biggest obstacles and challenges as a journalist that young students need to realize is that relationships and contacts are all that separate us – sources and contacts and how you build those," Valencia said of his exclusive story, which he says has gotten "great feedback" from viewers and others at CNN. "I personalized the drug conflict in this drug war by finding a Catholic priest to interview. But it's not easy to get a priest to tell you how he saw people get mowed down by drug dealers, for example. The way you build those relationships and how you get people to open up…those are the biggest obstacles facing us going into it professionally."
Although it is too dangerous for Valencia to be there reporting on it with camera in hand, he described the story on the Juarez drug gang culture and in particular, that of the priest who had to keep details of murders and other details leaking out in confessions, for fear of reprisals against the church.
"The untouchable aura of priests is no longer there, and this is the second biggest Catholic country in the world – it's unbelievable," Valencia said. "But that's the sort of approach to journalism you learn at USC. People get sick and tired of numbers. So you personalize the story. Make the audience care. And I apply that approach to every news story I get and when I find stories for CNN – domestic and international. My job right now? We're part therapists, part best friends."
Besides developing creative ideas and themes for broadcast, gathering video elements for rundown, organizing segments, pre-interviews, writing and voicing packages, Valencia's time is sometimes spent scurrying around finding the best avenues for relaying devastating news.
"I can't tell you how many people die on my shift every day," said Valencia of how he handled the Haiti earthquake story, coordinating the first video shown on CNN. "We were live on air with CNN and I was handing Anderson Cooper, and he was at a rescue…and on the other side of town Susan Candiotti was at another rescue and we had so much hope. Phone calls are coming in asking for me, then we come back to the story at 10 and the rescue effort…had turned into a major recovery effort. I'm never going to forget that. When you're doing a story like that, you hold on to those little nuggets…those conversations with your producers about the sights and smells, but you have to get through it because you have to love what you do, and I love what I do."
Valencia mused on the trajectory of his short career, which has taken him to Africa, Spain, a black belt in Tae Kwon Do and even some ice hockey before landing him at CNN.
"I'm still at the infancy of my newsgathering career, even though I've been in the business for four years," Valencia said. "But it's all worthwhile in the end. My cousin got me through the door, but I walked myself down the hallway."